A cut above
Hindustan Times, December 17, 2007
New Delhi, India -- We are never averse to a bit of piety in Prada. And this is exactly what Japanese monks and nuns undertook recently in a bid to spread Buddhism in Japan, a rapidly ageing society we might add.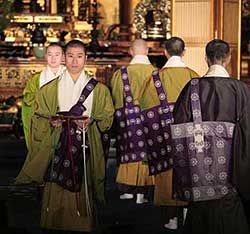 << Monks on the catwalk: Tokyo, December 15, 2007
Now Buddhism is not such a stranger to the Chanel set, Richard Gere being the foremost disciple and his former wife Cindy Crawford not lagging behind. Even so, how does fashion work for the totally spiritually inclined?
Here one has to go back to the beings that walked this Earth. So we cannot really blame Bollywood for trying to recreate the 'Mahabharata' look in its blockbusters.
But given that Buddhism is lagging in Japan, where it is thought to be a way of life, the ramp may well be the answer to the people taking that chant — albeit sponsored by Chanel — seriously again. Now it is no one's contention that religion and the ramp do not go together.
But it was not so long ago that the Dalai Lama was dismissed as a political monk in Gucci loafers. As we all know, the Dalai Lama is quite a bit more than a man who thinks on his feet, designer or otherwise. But spiritual chic might just catch on in today's material world.
Buddhism is a happening with some of the world's most talked about celebrities hopping on to the Buddha bandwagon. The chief among them, of course, is Richard Gere, as we have mentioned before, he of the Pretty Man, oops, Pretty Woman fame, who have put Buddhism on to a sexy plane.
In fact, the Buddha bar in Paris became such a talking point that it is the benchmark for all the aspiring barflies in the world. A different meaning to the temples of creation.