Dalai Lama welcome, but is his message so special?
By BILL WINEKE, Coulee News, July 24, 2008
West Salem, WI (USA) -- I sometimes wonder just how much attention we would pay the Dalai Lama if he showed up in Madison wearing slacks and a sport coat, rather than saffron robes and sandals.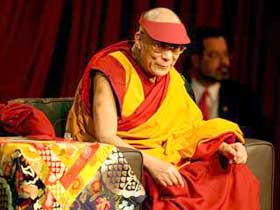 While I'm in the wondering business, I wonder, too, how impressed we'd be with the $6 million Buddhist Temple about to be dedicated at Deer Park near Oregon if it had been constructed according to Frank Lloyd Wright's "Prairie School" of architecture, rather than reflecting the architecture of Tibetan mountain monasteries.
The Dalai Lama, 73, arrived in Madison July 18 for a five-day visit. As always, we're glad to see him. He is a world leader whose advocacy of peace and nonviolence is inspirational. His enthusiasm for building closer ties between science and religion is a blessing to both realms. His very presence is a gift to the Madison area's Tibetan community. So, we welcome him.
At the same time, I'm always a little puzzled by the rapture so many Madisonians express when they're in his presence.
I first met the Dalai Lama in 1979 when he made his initial visit to Madison. It was a pretty low-key affair (he spoke to 2,000 at Memorial High School and another 500 at St. Benedict Center, which is now known as Holy Wisdom Monastery) and the spiritual leader talked about compassion. He was for it.
I covered his appearances here in 1981 and in 2001. He spoke about compassion on those occasions, too, and his position hadn't changed, though the crowds were bigger. He was here again last summer and will be honored at a "long life" ceremony during this visit.
My guess is that he will speak about the virtues of compassion.
I know this sounds flippant and arrogant, but I do question whether the awe with which we greet religious leaders like the Dalai Lama owes more to the trappings of their position than to the profundity of their ideas.
Buddhist monks are very exotic people, and Deer Park is a very exotic temple. But when one breaks down the public message of the Dalai Lama, one is left with a set of fairly unremarkable principles: Positive thinking can effect positive emotions; it is better not to get too attached to the material aspects of life; try to think well of all beings and try to remain mindful of the moment in which you exist.
This is a message that will, no doubt, lead to individual happiness. There is some doubt as to whether it leads to social justice or just encourages those who suffer to be content with their lot in life. My main problem with the Dalai Lama's message is that we don't ask it to compete in the arena of ideas; we don't argue with the Dalai Lama the way we might argue with a theologian wearing a three-piece business suit.
Perhaps I'm just jealous. I preach at a rescue mission, and the last time I wore my robe there someone stole it after the service. People don't tend to hold my views in awe.
Nevertheless, while I'm glad to have the views of the Dalai Lama in our marketplace, I think we ought to judge them on their merits and not just defer to them because of spectacle.