Visions for our future
By Tenzin Yangdak, Times of Tibet, Jan 26, 2005
Dhramsala, India -- It is always a great blessing to all the Tibetans when ever His Holiness the Dalai Lama visits their settlements or community. At the same time His Holiness emphasizes and reminds the importance of kindness, education, sincerity and social responsibility to all the Tibetans, official, students and general public. We tend to be overwhelmed by the blessing of His Holiness and some what not remembering His specific instructions on how best to fulfill the duties and live harmoniously within the community and at large.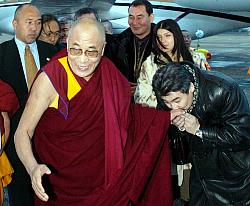 What is seemingly an awesome devotion to His Holiness by all Tibetans and the extend to which we whole-heartedly cherish and adore His Holiness to heart more than anything else in this world. It is a complete expression of their unflinching faith and respect to His Holiness, which is beyond any normal explanation. A feeling that is also quite born from the time of birth from mother?s womb or for some even coming from their past lives.
In the recent past, due to His Holiness?s advancing age, His instructions, I feel, were more direct, urgent and evoking particular attention. We simply keep on expressing concern over his tight schedules and need of more relax for His Holiness. But, in fact, where ever His Holiness is invited every Tibetan groups wish to invite for blessing this or that, no matter whether it is that worthwhile or not. This customary attitude is not going to change simply by itself. We will, even in the future, daringly take every chance of such opportunity without seriously thinking of the condition of His Holiness. We tend to forget that His Holiness is also an another human being like us with perfected compassion and care for others. In meditation it is indeed beneficial to visualise His Holiness beyond the human level. But, we shouldn?t forget the conventional reality of his existence.
His Holiness has even said on number of occasions that His Holiness has no magic power whatsoever to healing physically sick people by placing His hand on their head. They should rather take necessary medications and health care to achieve such desired result. Of course, there are spiritual power and blessing of His Holiness that will definitely help every beings who approach for His blessing. But, the major factor that causes the desired result is his or her attitude and karmic interdependent conditions.
Generally we are oblivious of or lacking convicted awareness in the reality of Dharma and law of karma. We look at different experiences in our life as created by other forces or harmed by some one apart from oneself. We are also proud when we experience happiness and success in our life forgetting all the interdependent causal factors.
Some times we also hear statement that sounds contrary to the general Buddhist law of karma and causality. Such as, according to the spiritual teachings, it is often taught of how hard and rare it is to obtain human positive rebirth. But, there are certain blessings said to bring about positive human rebirth in a short period without making much effort from the part of the concerned person. Such a statement is quite contrary to the actual law of karma and causality. There are exceptional cases in religious activities. But, it will definitely take a long time for a person to come to belief in such spiritual powers.
Also, in astrological findings, it is often said that if a family member of a deceased person installs a statue of Buddha or other holy objects he will immediately take perfect human rebirth and escape the lower rebirth. I still find it quite hard to understand such an effect. It is may be due to my familiarity with the scripture of general teachings on karma and interdependent nature in Buddha?s teaching.
We Tibetans have received a lot from His Holiness the Dalai Lama and I strongly feel it is now high time to take His instructions to heart ever more serious than before. We still expect a lot from His Holiness both in terms of Tibetan freedom struggle and of course of spiritual teachings and service.
There are few influential Tibetans whose knowledge and capacity are not suitably honored and recognised by our community. It is high time that we need to make good use of our own resources, especially human, in exile for the greater service of our country and people. With the right persons at the right places and working for our common cause will surely make difference in the future. For that to happen, our people needs to be more open-minded, unbiased and determined for the common goal and common action. I think we need that kind of spirit and determination to achieve step further.
Looking back to the 60s and 70s educational qualification of exile Tibetan staffs of this generation is much higher. But, their dedication and determination is tested in terms of their attitude and performance. We have great hope in them and look up for their service.