Mothers Donít Let your Babies Grow up to be Piano Tuners Or Self Proclaimed Buddhas
by Patricia Snodgrass, The Buddhist Channel, Nov 18, 2008
Texarkana, TX (USA) -- Once a upon a time, in a small north east Texas town, way back in 1977, I was standing in the front yard with a pair of binoculars looking up at what astronomers called, the "Grand Alignment." The Grand Alignment is a rare and quite beautiful occurrence when all the planets seem to line up.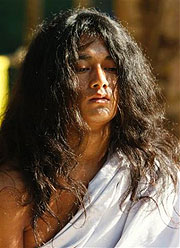 << 'Buddha Boy' Ram Bahadur Bamjan: Is he for real?
So while the sun was setting, my younger self, totally enamored with all things astronomical, stood in awe, looking at all the planets aligned like a string of diamonds glittering in the blue violet dusk.
My father, a very practical man, came out and stood quietly beside me. He looked up at the sky with me and I was so happy to share a moment with my father I felt my heart squeeze.
I offered him my binoculars and showed him where to find Saturn. As he looked through the lenses at the shining yellowish disc his face softened. He said, "So that's Saturn, huh?"
"Yes," I said.
He handed me back the binoculars and said nothing for a while. Then, shuffling his feet a bit in what I perceived was embarrassment, I braced. He was going to ask me a personal question. As a teenager, nothing was worse; aside from a zit at prom night was having your father ask his eighteen year old daughter a personal question.
"There's a piano tuner turned preacher," he said. "Who said that those planets are going to cause the world to come to an end."
"Really?" I asked as I continued to look at Venus in mid phase. "What makes him think that?"
Again, the embarrassed shuffling. My father only had a fifth grade education but he was far from being a stupid man. Although he could turn a pile of bricks and mortar into a work of art, he was limited in his knowledge of astrophysics. So he came to his nerdy daughter to ask the big question.
"He says," My dad said, "That this alignment is a sign that Jesus is coming back. He says that the planets all being on one side of the world are going to tear the earth a part."
Ah, I though, so that's it. My dad was a proud warrior, who served two tours of duty during World War two. I saw my father stare down a crazy man threatening his family with a shotgun and ended up beating the guy to a bloody pulp. Here was the man who wrestled a 1969 Plymouth station wagon that nearly flipped on its side while trying to avoid a drunk man who staggered out on the highway, with a cheerful "hang on" as he did so. My dad, the American Indian James Dean who I looked up to with awe.
But here he was, staring up at the night sky and afraid, genuinely afraid of something he could neither fight nor fully understand. So it's time to go to the nerdy girl he fathered for an answer.
"The piano tuner is wrong," I said, without arrogance. You never speak arrogantly to a Kiowa man who proudly served his country and once rode a motorcycle across the continental United States. I pointed out toward the planets. "See all those planets? They look really close don't they? But that's just an illusion. They're millions of miles away, and on different planes from each other. We only see it as a straight line because of our perspective. Their gravity won't affect us."
My dad, who understood, to me at least, all things mathematical and involving lines and planes sighed with relief. "So they won't tear the world apart?"
"No. We might experience higher tides than usual but that'll be about it."
I smiled at him. "Beside," I said, "Remember, Christ himself said that he didn't know the time or the hour of his arrival. So how can a piano tuner know?"
Satisfied, my dad patted my shoulder and went back into the house to watch tv while my step mom fried chicken. I continued with my observations.
It was a few weeks later that the piano tuner turned preacher turned prophet managed to convince several of his followers that the world was indeed coming to an end. According to him, the planetary alignment was a sure sign of Christ's return. Because they believed him, these people sold everything they had, quit their jobs and drove up into the mountains to wait the messiah's return.
So guess what didn't happen.
A number of very unhappy cheated people came down the mountain and did their best to resume their lives.
I've seen a number of self proclaimed messiahs and prophets during my current incarnation. Some were relatively harmless, others, like the uber scary Heaven's Gate cult and the Jonestown massacres gave me a number of sleepless nights. But Christianity hasn't cornered the market on self proclaimed saviors. Other religions have sprouted plenty of their own.
And I find myself morbidly curious about charismatic cults regardless of the religion from whence they sprang.
Not that I'd join one, but just curious. I can't for the life of me figure out why or how anyone could leave their minds behind and blindly follow anyone simply because they say they're a god, or a Buddha for that matter and can lead you to heaven or to enlightenment, when they themselves are far from being either.
I think this healthy form of skepticism and curiosity has served me through various incarnations. I can almost imagine myself as an elderly Jewish woman standing in front of her house saying, "So, that skinny kid of Joseph of Nazareth's is calling himself the Messiah? No wonder he can't get a wife!"
I'm Buddhist now in this incarnation. Well, a rather witchy Buddhist, but a Buddhist nonetheless. So I had to admit when I heard about young Ram Bahadur Bamjan, the so called "Buddha Boy" From Nepal, I was touched with that same morbid curiosity mixed with healthy skepticism.
And lots and lots of question.
In a news video saw a woman with tears glistening on her cheeks, proclaiming this boy to be a "God."
I felt great sympathy for her. Compassion? Well, I tried. But sympathy definitely. This poor woman was desperate for a deep spiritual connection in her life. So desperate that she was willing to leave her common sense at the threshold of her mind and accept this young man unconditionally.
She wasn't alone. Bamjan seems to have quite a following. I saw a picture of a lama being blessed by him. This really startled me. Why would a lama, believe that this young man is simply someone who is either delusional or has been deluded into believing that he is the reincarnation of Gotama Buddha?
Where are the tests? I ask myself. Why hasn't a doctor checked this young man to make sure he really hadn't eaten or drank anything in nearly 10 months (a physical impossibility.) Even Tenzin Gyatso was tested thoroughly before he was declared the next Dalai Lama. And although Tibetans revere him as the reincarnation of Chenrezig, The Dalai Lama himself states that he's just a simple monk.
Why hasn't the local monks whisked him away into a monastery and checked out his story? Why are people forbidden to ask about his meditation practice?
Why are people willing to just give up their common sense and just simply accept something without facts?
Why did the police confiscate 700,000 rupees worth of alms?Like I said, I ask lots and lots of question. My lama can vouch for that.
But wait, you may ask. You're an American. You haven't been to Nepal. You haven't stood in Bamjan's presence. How could you possibly criticize this savior when you've never met him in person?
Easy. For the same reason I avoid evangelist turned jailbird Tony Alamos' charismatic followers like the plague. They're fake. They may actually believe their dogma but that doesn't make it real. Or right.
Charisma is not a sign of divinity. Its certainly not a sign of being enlightened. Just saying you're a Buddha doesn't make you one, no more than saying you are a shark means you can swim for unlimited periods underwater and bite people's arms off.
I do feel compassion for Bamjan. He's young and impressionable. He has fallen into either exploitation by unscrupulous people who are feeding a delusion, or he may really believe he's Gotama Buddha's reincarnation. Or maybe he's found this as a way to make an easy rupee or two. Either way he and his 'handlers' are doing him and his followers a disservice. Sure his presence may actually renew some people's faith, but at what cost? The price may be more than you think. You might not even feel it in this incarnation, but what about the next?
Bamjan isn't enlightened. He has the delusion of enlightenment, but not enlightenment itself. Like the Grand Alignment, Bamjan is beautiful. His story is fascinating. And like the Grand Alignment it seems like everything has lined up perfectly. But that's an illusion. Bamjan and his followers are seeing enlightenment from one perspective and don't see the interconnectedness, the angles and planes and voidness and forces that are really there. I hope he learns this soon. For his sake as well as for the sake of those who do find faith in him. Otherwise, he'll become nothing more than another piano tuner turned prophet with nothing to offer but grim disappointment.