Will Buddhism save Tiger Woods?
by Bess Twiston-Davies, Times Online, February 22, 2010
London, UK -- Will Buddhism save Tiger Woods? That is the question buzzing on the blogs after the golfer's lengthy mea culpa on Friday in which he said he would turn back to Buddhism, the faith of his childhood and teenage years.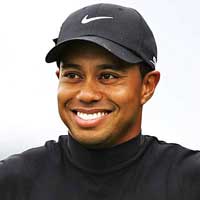 The Dalai Lama, quizzed for his view, revealed he had never heard of Woods, but advised a dose of "self-discipline" might do the trick for the golfer who is now being treated for sex addiction in a Mississipi clinic.
During his 11-minute apology Woods admitted he had "a lot to atone for" and said: "Buddhism teaches that a craving for things outside ourselves causes an unhappy and pointless search for security, and it teaches me to stop following every impulse and learn restraint. Obviously, I lost track of what I was taught."
But was the apology truly Buddhist or rather Biblical as Cathy Lynn Grossman argues on the Faith and Reason USA Today blog? She points out that Wood's apology resembles that of Bill Clinton post-Lewinsky, a pattern of "Admit your wrongs, take responsibility for them, express your regrets to all who were harmed, and spell out your path to return to integrity and righteousness." A long-winded way perhaps of describing Clinton's pithy apology, here recalled by Libby Purves as ""Ah guess there ain't no fancy way of sayin', ah have sinned."
Shambhala Sun carries this quote from former divorce lawyer Michele Lowrance: "Buddhism tells us that if you think only of your own happiness, which is what Tiger had been doing, you will never find it. If you think only of the happiness of others, that's when you find happiness yourself."
Lowrance, the author of (yep it's real title) The Good Karma Divorce, adds:"He has to manage his ego to win [those he's betrayed] back, but if he is serious about following the Buddhist philosophy, he has a chance."
Last month, Shambhala published a report and video link to this now much discussed video in which ex-Fox News Anchor Brit Hume said that in order to find true change Woods had to turn to Christianity.
What do you think? Will religion save Woods? Or is all this spiritual talk just a transparent bid to recover his reputation?