Actress speaks on Buddhism and the Dalai Lama
BY LILLI KUZMA, Chicago Sin-Times, July 12, 2011
Los Angeles, CA (USA) --Jennifer Beals is well-known to many Americans as an acclaimed actress with a long list of film credits, including her starring role in the break-out hit, "Flashdance," and her work with Denzel Washington in "Devil in a Blue Dress," and her TV roles on "The 'L' Word," "Lie to Me" and most recently, "The Chicago Code."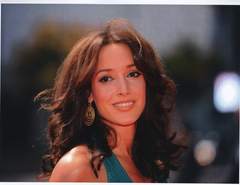 But Beals is also a practicing Buddhist, and has been involved with the upcoming visit to Chicago by His Holiness the 14th Dalai Lama on July 17-18. Beals, 47, was born and raised in Chicago, and now resides with her family in Los Angeles. She spoke recently by phone to Pioneer Press.
Pioneer Press: What is your formal involvement with the upcoming visit by the Dalai Lama?
Jennifer Beals: I was the spokesperson, interfacing with the press to let people know he was coming. I was the person who was running through the streets going, "His Holiness is coming! His Holiness is coming!"
Pioneer Press: Are you a member of the Theosophical Society in America?
Beals: No, I met the president (of the Theosophical Society), Tim Boyd, when we did a television interview together and I've been to the Theosophical Society (center in Wheaton) a few times, played in their labyrinth, they have this amazing labyrinth, and a beautiful library there.
Pioneer Press: For the Dalai Lama visit, will you be present?
Beals: Absolutely.
Pioneer Press: At both of the events?
Beals: Yes, absolutely. I believe on the 17th I may speak.
Pioneer Press: Have you met or been in the presence of the Dalai Lama?
Beals: Yes. I haven't met him, although I feel like I have met him personally, because he makes you feel that way when he's in the room. And he's also very funny.
Pioneer Press: How did you get into Buddhism?
Beals: I don't remember exactly how it began. It was 14 years ago. Formal study would have been 10 years ago. It's a very interesting thing. The Buddha doesn't want you to take anything on faith, but to investigate it on your own, so it requires a lot of analytical thinking. So I started studying at a center, I had a teacher who was a (Buddhist) nun. Before that, I had enjoyed meditating in a group, and remember saying to a friend that I really enjoyed the meditation part of yoga class and wish I could find just a meditation class.
Pioneer Press: Was your family religious?
Beals: No, not at all, in fact I begged my mom to take me to Sunday school. She wouldn't take me, she had grown up Catholic and (didn't want that experience for me). Then I asked to go to temple school, but of course we weren't Jewish. So I just read the Bible at night before I went to bed. And I found a catechism at the back of Silver Surfer magazine that I sent away for.
Pioneer Press: You attended the Francis W. Parker School in Chicago. How did your education there influence you?
Beals: Being a progressive school, we studied world religion early on, and I think every school should have that, so we don't learn to discriminate, especially out of ignorance. Being in a progressive school was helpful, but you don't need to be at a progressive school to understand such beliefs. I was just fortunate that it was progressive enough at that time that the curriculum taught world religions, and the need to embrace pluralism — that everyone has a voice to be heard, and that is part of humanity and democracy, and a good way for us to not end up hurting each other.
Pioneer Press: You grew up in Chicago, but do you have a connection to any of the suburban towns in Chicagoland?
Beals: I lived in Evanston for about three months after my father passed away.
Pioneer Press: Your late father was African American, your mother Irish American. How did being biracial impact your life?
Beals: Well I think in a lot of ways. We could talk about that for all eternity. But one thing, vis-à-vis this conversation, is you get to see both worlds, and you get to understand that they are in more ways similar than different. I mean, I really felt like I was able to be in both and not a lot of people are given that. Certainly there's a sense of otherness that comes with that, but there's also a sense of clarity.
Pioneer Press: Through some of your acting roles, you have helped to promote acceptance of gender issues, from being a female welder in "Flashdance" to The "L" Word series and the gay issues, to your most recent role portraying Chicago's first police superintendent. Are these roles ones you have sought out, or are you sought out for these roles of a trail-blazing woman?
Beals: I don't know. If given a choice, I pick roles that are more interesting to me, but it seems to have just happened. I've gotten really spoiled now, with having parts that mean so much to a lot of people.
Pioneer Press: How do you see the world right now, with where we're headed?
Beals: I was at the World Peace Talk the other day that His Holiness gave, and he was talking about how we have the opportunity to make the 21st century better than the 20th century, how the 20th century was so violent. There were a lot of great things that came from the 20th century, certainly in terms of civil rights and human rights, but that we have the opportunity right now to make changes to make sure the 21st century is a more peaceful one.
Pioneer Press: For the visit of the Dalai Lama this weekend, what are you hoping to get out of it, and what are you hoping others will get out of it?
Beals: Well, for me, I always hope I will get a deeper level of understanding of his teaching, because there are so many different levels upon which you can comprehend. And so for me, a deeper understanding. As for other people, in terms of developing a kinship of faith, I just hope other people can take in the teaching, and realize that the ways in which we are similar are more numerous than the ways in which we are different, and what binds us all is our desire for happiness, and our ability to show compassion. Belief in compassion and importance of compassion binds us, not only any religion that I know of, but also people who aren't religious. It's just a moral, ethical standpoint or view. The ability to love and the ability for compassion and affection are already hard-wired in our brain, and it's through our awareness that we can extend it to other people.