Home Asia Pacific South Asia Sri Lanka


Kandy monasteries reject state diktat on Vesak
By L. B. Senaratne, Sunday Times, April 29, 2018
Colombo,Sri Lanka -- The two main monasteries Malwatta and Asgiri will proceed with Upasampada rituals, or higher ordinations, from May 29, Vesak Day to June 27, the Poson Poya Day. The two viharayas do not accept April 29, as Vesak Day, which they claim is the work of a misguided astrologer.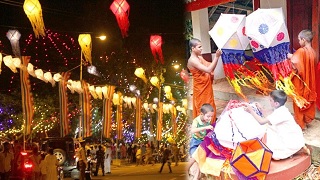 According to the Anunayake Thera of Malwatte, the Venerable Rajakeeya Panditha Niyangoda Vijithasiri Thera, an age-old custom has been violated, in that Vesak Day has been declared on an "adhi Poya,'' an additional Poya day.
The Thera says that for centuries, Vesak Day, had always been held in May.

He points out that Buddhist countries including Thailand will be celebrating Vesak on May 29, and not on April 29.
They point out that there are 13 Poya Days. The cycle is that every 28 days the full moon appears. Therefore, they consider that April 29, Poya day as an "adhi Poya'' day and that it does not fall on the Sinhala calendar.

Both monasteries apportion partial blame for this situation on the Western calendar, in which April 29 is indicated as Vesak Day.According to the Ven Niyangoda Vijithasiri Thera, this is a glaring mistake on the part of those responsible for announcing April 29 as Vesak Poya. The printers of calendars are also partly responsible.

The Dalada Maligawa is preparing to receive the "Wahal Nagayas'' for Upsampada rites only on May 29, according to Kariya Korale, Karunatilleke, who is in charge of arrangements. The "Wahal Nagayas" are the Samaneras of the king.





About Us
Get Breaking Buddhist News in your Email. Free subscription.

Please help keep the Buddhist Channel going

Point your feed reader to this location
Wikipedia: Buddhism by Country
Sangha Directory
Ecards
Wallpapers
E-Library
Archives
Sitemap
Submit an Article
Write to the Editor
Affiliation Program