Home Asia Pacific Oceania Australia


Plans move forward for Buddhist cafe in Brighton East despite two objections
by Jon Andrews, Bayside Leader, August 18, 2014
Melbourne, Australia -- ALONG with the soothing oms of meditation, a Brighton East Buddhist centre will soon be humming with the gentle sounds of sipping coffee.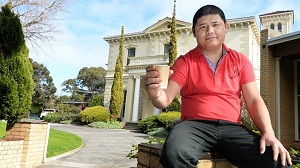 << Tsering Dorje at the Tara Institute Buddhist Centre in East Brighton which is opening a cafe. Picture: Susan Windmiller

Despite two objections, the Tara Institute, in Mavis Ave, was given a Bayside Council planning permit to build a small 18-seat cafe.

The centre, which runs programs and courses to learn and practice Buddhism, is run mainly by volunteers and relies on membership fees to survive.

One objection was from a neighbour, while the other didn't even live nearby.

Objections to the cafe included excess noise, a lack of car parking and increased traffic in the area.

Tara Institute spokesman David Andrews told the August 12 meeting the cafe was a small project to provide refreshments mainly for users of the centre, although visitors were more than welcome.

"We are hoping the revenue from this small scale cafe will contribute to our valuable community asset," he said.

Mr Andrews said the cafe's revenue would be put to good use.

"We are almost entirely dependent upon volunteers, we spend lots of money on maintenance of the heritage building and have very limited resources," he said.

Mr Andrews said he hoped the cafe would be up and running by summer.