Home Asia Pacific Oceania New Zealand


Sands of time run out for art work
By Nigel Benson, OTAGO DAILY TIMES, October 16, 2006
Dunedin, New Zealand -- A spiritual art work that was weeks in the making was destroyed in a few seconds in the Dunedin Public Art Gallery yesterday. More than 200 people turned up for the deconstruction ceremony of the Chenrezig sand mandala.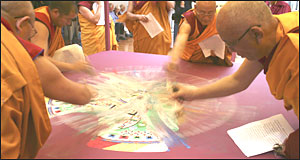 << Buddhist monks (below) dismantle a sand mandala that has been on display at the Dunedin Public Art Gallery. Picture / Otago Daily Times

The work was started by Tibetan Buddhist monk Geshe Jamyang on September 21 and completed on Saturday. The intricate sand painting was slowly crafted from multicoloured limestone sands imported from India.

The tradition originated in India in the 8th century and its intricate circular pattern represents the abode of Buddha. The deconstruction ceremony yesterday represented "the impermanent nature of all phenomena".

Dhargyey Buddhist Centre of Dunedin director Peter Small said the destruction of the work also released its accumulated karma for the benefit of all living creatures.

"The mandala has absorbed the spirit of the lamas and the attitude of all the people who have come along to observe it being made," he said.

"It is dedicated to all beings in our region and the wider biosphere and our universe."

The sands were taken to the Dunedin marina. "By giving the sands to the harbour and the water, we're giving to all beings."

See list of Donors:

Donations received from Nov 22, 2010 to Dec 22, 2010
US$ 2,597.06
RM 21,630.00

Thank you for your support
for helping us to achieve
our funding requirement of: US$ 6,430

---

Point your feed reader to this location
Submit an Article
Write to the Editor
Affiliation Program

---

Send a E-Card