Home The Americas US West


Tzu Chi raising funds to help Sandy victims
By Yen Ling-ju and Scully Hsiao, CNA, Nov 11, 2012
Portland, WA (USA) -- The Buddhist Compassion Relief Tzu Chi Foundation, one of the largest charities in Taiwan, launched a fund-raising drive across the United States over the weekend to help victims of Superstorm Sandy, which recently ravaged parts of the U.S. East Coast.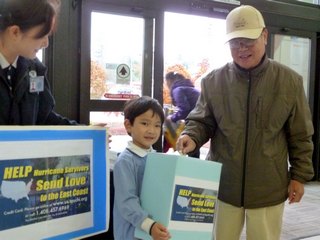 Huang Han-kui, director of Tzu Chi's U.S. headquarters, called for donations via phone, Internet, or in person at its stations at supermarkets across the country.
In Portland on the northwestern coast of the U.S., volunteers put up posters and donation boxes at supermarkets and restaurants in areas with large Chinese populations, attracting crowds of passersby and shoppers.
The Buddhist charity also set up disaster relief centers in New York and New Jersey, two of the hardest-hit areas, to coordinate relief efforts such as the distribution of blankets, food and daily necessities.
Sandy, the biggest storm to hit the U.S. in decades, made landfall on the New Jersey coastline Oct. 29. It caused blackouts in millions of households, mass transit shutdowns in the eastern U.S. and flooding in large areas of New York City.
As part of Tzu Chi's relief efforts, members of the organization in areas of New York with large Chinese populations offered cooked meals to affected residents.
In New Jersey, Tzu Chi members traveled around the state, visiting residents and distributing relief supplies to an estimated 4,000 households in the four most heavily affected areas of Keansburg, Little Ferry, South Toms River and Atlantic City, according to the charity.