Thich Nhat Hahn, Zen Buddhist Master and Peace Activist, Publishes Story of Timeless Wisdom - 'The Novice: A Story of True Love'
The Buddhist Channel, August 23, 2011
San Francisco, CA (USA) -- At the age of 84, world renowned spiritual leader Thich Nhat Hanh offers a new kind of teaching to share his profound wisdom through a beautiful and timeless story.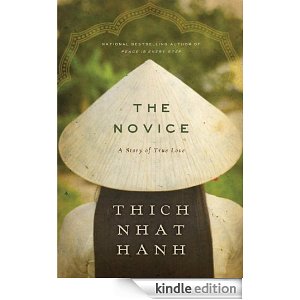 In THE NOVICE: A Story of True Love (HarperOne; August 2011; Hardcover), Thich Nhat Hanh transforms an ancient folk tale into a parable of a young woman who dares to risk her life for her faith - and with it brings us closer to understanding the true nature of the life, and ourselves.
Thich Nhat Hanh will travel from his home in Plum Village, France, to the United States for a series of mindfulness retreats and public talks from August through October 2011.
Based on an ancient Vietnamese legend, THE NOVICE follows Kinh Tam, born to an aristocratic family in rural Vietnam and possessing uncommon beauty and intelligence. From an early age she is drawn to the teachings of Buddha and the rewards of a monastic life, but to please her family she agrees to walk the traditional path of marriage. Kinh Tam devotes her mind to her husband yet her heart never waivers from her true calling.
While Buddhism is new to Vietnam, and temples only accept men for ordination, all Kinh Tam truly desires is to become a monk. Taking a path that will forever change her life, she leaves town disguised as a man to join a monastery as a novice.
Despite the many challenges of living as a man, Kinh Tam thrives and becomes a beloved member of the community. Years of profound joy and peace pass until the day a local woman accuses the novice of fathering her unborn child. Kinh Tam is torn between two impossible choices: keep her secret and endure brutal punishment, or reveal the truth that will prove her innocence but put an end to her spiritual path. Facing the unbearable with the boundless heart of Buddha, her choice forever changes her life, her country, and her faith.
In spare, elegant prose, this parable by Thich Nhat Hanh reminds us that we all face injustices and suffering, yet by connecting with love as Kinh Tam does, we, too, can discover a mind and heart that are peaceful, happy, and free.
About the Author
Thich Nhat Hanh is a Vietnamese Buddhist Zen Master, poet, scholar and peace activist. During the war in Vietnam, he worked tirelessly for reconciliation between North and South Vietnam. His courageous efforts to generate peace moved Dr. Martin Luther King, Jr. to nominate him for the Nobel Peace Prize in 1967. During the war, he founded the Van Hanh Buddhist University in Saigon and the School of Youth for Social Service. Forced into exile because of his efforts to negotiate peace in Vietnam, he continued his activism, rescuing boat people and helping to resettle Vietnamese refugees abroad. Thich Nhat Hanh is the author of many books including such important classics as The Art of Power, Savor, Peace Is Every Step, and Peace Is Every Breath. He lives Plum Village, his meditation center in France, and travels worldwide, leading retreats on the art of mindful living. Visit the author at www.plumvillage.org
THE NOVICE: A Story of True Love
By Thich Nhat Hanh
HarperOne
August 23, 2011 / $23.99 Hardcover /ISBN 9780062005830