"The Dharma of Star Wars"
by Regina Campbell, Daily Yomiuri Staff Writer, April 17, 2005
Tokyo, Japan -- Admit it - as a child, with grandeur and adventure in mind, you attacked your siblings and friends with a stick that you pretended was a light saber, didn't you? Don't worry, you're not alone.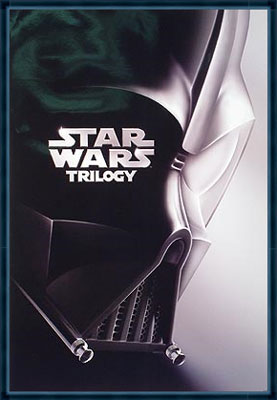 Taking up the robes and weapons of George Lucas' guardians of the galaxies has been a dream of millions who watched and loved the Star Wars trilogy, as well as those introduced to the saga by the latest episodes: The Phantom Menace and Attack of the Clones.
Matthew Bortolin, an ordained member of Thich Nhat Hanh's Buddhist Community, has taken this sentiment one step further, fusing his pop cultural obsession with his religious beliefs.
In The Dharma of Star Wars, Bortolin opens the gates to Buddhism, explaining the basic tenets by way of themes, characters and situations from the popular trilogy and the not so popular recent releases--episodes I and II.
Bortolin asserts in the book's prologue that Star Wars is not a Buddhist epic, but a story that can be applied to Buddha's teachings. The author is obviously a fellow Warsie, to whom dressing up in a set of Jedi robes is not a foreign concept. He just happens to also be rather devoted to Buddhist principles.
According to Bortolin, Buddhism is a window through which fans can better understand Star Wars. The Dharma of Star Wars, however, seems to be more a summary of the religion than a guide to fighting the dark lords of the Sith.
"Wisdom is the fruit of meditative contemplation (like Yoda's calm reflection), mindfulness (as Qui-Gon taught) and diligent effort (like the deep commitment and serious mind of a Jedi)," Bortolin writes.
Using the teachings of Jedi masters Yoda, Qui-Gon Jin and Obi-Wan Kenobi as well as the experiences of Anakin Skywalker, Padme Amidala, Luke, Leia and R2D2, he describes karma, nirvana, the reasons behind suffering, wisdom and mindfulness.
These concepts lend themselves well to some of the premises of the Star Wars stories, but Bortolin tends to focus on dealing with suffering, the intricately interconnected nature of existence and the importance of concentration, which are more closely related to Zen Buddhism than light saber techniques to use against the droids of the Trade Federation.
The book, like the religion and many of Yoda's words of wisdom, focuses on the individual rather than on broad, sweeping battles between good and evil.
Through Yoda's words to Luke on Dagobah in The Empire Strikes Back, Bortolin explains the calm state of reflection a lone Jedi must gain to monitor sensory input, which alters moods.
Instead of pursuing self-control through denial, as Anakin does after his mother dies on Tatooine, the author emphasizes that a Jedi must acknowledge his or her humanity to understand and subsequently release emotions that lead one to the Dark Side--fear, frustration, anger, hate.
Yoda does seem to embody a Zen master and Jedi training does appear to be similar to the art of meditation, reflecting on one's own approach to life and place in the universe. After reading The Dharma of Star Wars, it's very difficult to refute the assertion of similarities between Buddhism and the movies.
There are some aspects of Star Wars that could be argued as contradictory to Buddhist principles--namely the battles and violence. The author addresses these factors in an afterword, using the opportunity to put forward his case that compassion rather than revenge or violence is the way of the Force.
Bortolin, however, should tread carefully when referring to Star Wars fans' archnemeses--Star Trek followers--in his comments on interconnectedness as being a component of the object of Warsies' affection, as his overly conciliatory tone could be construed as heresy.
"Star Wars is in our hearts and minds. It is the child who dreams of becoming a Jedi. It is the merch-dealer who dresses up as a Stormtrooper every Halloween. It is even in the Star Wars fans' ancient rivals, those dastardly Trekkies. If we look carefully we will see that what we love is in children, antiques, and, yes, Klingons."
The battles between Luke and Darth Vader carry spiritual overtones that hold up well in Bortolin's book. The author uses the struggle between good and evil, father and son, to explain the many factors that were necessary for Vader to rebel against Emperor Palpatine and save his son, whom he had been attempting to kill not 10 minutes beforehand. These events serve as an example of the interconnected nature of the universe--how we can see the world in one object.
At the back of the book, Bortolin includes "The Padawan Handbook," a guide for would-be Jedi that offers advice on how to conduct oneself to achieve Jedi mindfulness. The section is arranged in tidbits that resemble the sayings of Confucius, or the messages of fortune cookies.
Here's one: "The greatest of all Jedi is not the one who defeats a thousand opponents; he is one who triumphs over himself."
The author's approach is not only entertaining, but a release for those tormented by the long wait between the recent episodes and the series' impending finale. But he is not alone in his quest to deepen people's perceptions of the ideological and moral importance of the epic tales. Another book, Christian Wisdom of the Jedi Masters by Dick Staub, has just been published by John Wiley and Sons.
Moreover, rumors concerning national census guidelines prompted 70,509 Australians, 390,127 Britons and 53,715 New Zealanders in 2001 to list Jediism as their religion, aiming to force governments to grant Jedi knights official religious status. The throng of would-be Jedi had acted on an e-mail that said if 10,000 people select a particular religion under the "other" option, the bureaucracy would have to list the term Jedi as a legitimate choice on following census forms. The e-mail, however, was a hoax.
Fans may have been thwarted in their attempt to gain official status, but they can still find solace on the Internet at a Web site for Jedi knights that is not affiliated with any major religion, where Jediism stands alone in its own right. At Jedi Creed (http://212.168.23.160/creed), the Web site managers offer forums, online tutorials and instruction to padawans and Jedi alike.
Despite the dimming of youth, perhaps that trusty old light saber stick is still in the garage.
---------
Title: The Dharma of Star Wars
Author: Matthew Bortolin
Publisher: Wisdom, 224 pp, US$ 14.95