Buddhism book offers gentle reminders
By Arlan Wise, MVTimes Online, May 12, 2005
?A fundamental truth underlies all Dharma teachings: every being has a basic potential Buddha nature.? -Lama Jigme Rinpoche
New York, USA -- ?Working With The Emotions? is a practical reminder of this basic truth which serves as an organizing principle for one's spiritual practice. The book is composed of a series of lectures given by Lama Jigme Rinpoche at Dhagpo Kagyu Ling monastery in France in 1994, 2002, and 2003 and it is published by the Bodhi Path organization here on the Vineyard.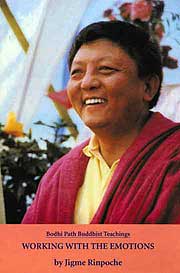 A student of Buddhism needs a teacher and his transmission; one cannot get the essence of Buddhism by oneself. That said, this is a well-written book that describes how this ancient discipline works to conquer emotional distress and quiet the mind. Lama Jigme Rinpoche's teachings are clear and easy to read. He makes gentle use of repetition, reinforcing the teachings without redundancy.
Lama Jigme Rinpoche gives an explanation of the Tibetan concepts of Dharma (the wisdom of Buddha), and Bodhicitta (the enlightened mind that knows we are all interconnected and is dedicated to helping others). He explains the root nature of emotive causes, and provides tools for working with the emotions.
He discusses the importance of meditation, yet stresses that meditation alone is not enough to achieve equanimity. It is important to observe one's mind and practice introspection daily.
He suggests that we let the first thought of the day be of helping others.
?A Tibetan word speaks of a view where everything is possible, and anything can happen,? he writes. ?In this scenario, we need only to see clearly what is happening?. The point is to expand our awareness.? We can be relaxed and energetic at the same time. Our goal is to attain this state of mind ever fresh, available, clear, and relaxed. A mind relaxed is a happy mind. It is not the ordinary happiness, which is fleeting, but a deeper happiness inseparable from the deep serenity or clarity of mind.?
Lama Jigme Rinpoche makes three important points: 1. do not harm living beings; 2. help others; 3. learn to tame your mind.
He emphasizes the importance of patience. This process is lengthy and challenging, but it is doable. One must practice day-by-day, week-by-week, month-by-month, and as the time passes, you will notice a gradual change in your perceptions and degree of inner contentment accompanied by a calming of your mind. The Lama knows the nature of the western mind, which wants enlightenment right this minute and expects instant gratification.
?Dharma practice is like the grass growing.? he writes. ?You cannot see its growth from day to day. You know it is growing. Only a few days later you would you see the grass visibly taller. Your state of mind is like the grass. It improves if you continue to apply the dharma daily, practice a little each day, reflect and meditate regularly. A year later, you will feel a positive change in you?. Change cannot be forced. We continue to work on ourselves little by little. There is no other way.?
Only you can work with your emotions. No one else can take on this task for you. You must step back from attachments to egoistic demands in order to see more clearly and live without expectations. It's work. It takes practice. In his book, Lama Jigme Rinpoche reminds you why you want to do it.
Just to read this book brings benefit of the Dharma.
------------------
?Working With The Emotions?
by Lama Jigme Rinpoche.
Karma Kagyu Bodhi Path Center, Martha's Vineyard
2005. $20. 102 pages.
------------------
Arlan Wise is a sponsor for the monks at the Tibetan Buddhist Ganden Monastery in Mundgod, India. She has received the Kalachakra Initiation given by His Holiness the Dalai Lama. She has also received His Holiness's teachings in Dharamasala, India and New York City. She writes the Times astrology column.