Chasing the Monk?s Shadow
Hindustan Times, May 17, 2005
?An Indian woman with a China craze, a Chinese monk with an Indian obsession; we had the same schizophrenia, the monk and I. It seemed logical to take the same road.?
New Delhi, India -- In the seventh century AD, the Chinese monk Xuanzang (earlier spelt as Hiuen Tsang or Hsuan Tsang) set off on an epic journey to India to study Buddhist philosophy from the Indian masters.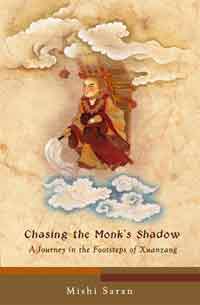 Travelling along the Silk Road, through the desolate wastes of the Gobi desert and the icy passes of Central Asia, braving brigands and blizzards, Xuanzang finally reached India, where his spiritual quest took him to Buddhist holy places and monasteries throughout the subcontinent.
By the time he returned to China eighteen years later, carrying with him nearly 600 scriptures which he translated from Sanskrit into Chinese, Xuanzang had covered an astonishing 10,000 miles. He also left a detailed record of his journey, which remains a valuable source of historical information on the regions he traversed.
Fourteen hundred years later, Mishi Saran follows in Xuanzang?s footsteps to the fabled oasis cities of China and Central Asia, and the Buddhist sites and now-vanished kingdoms in India, Pakistan and Afghanistan that Xuanzang wrote about. Travelling seamlessly back and forth in time between the seventh century and the twenty-first, Saran uncovers the past with consummate skill even as she brings alive the present through her vivid and engaging descriptions of people and places. Her gripping chronicle includes an extraordinary eyewitness account of Kabul under the Taliban regime, just one month before 9/11. Running parallel to the account of her travels is the moving story of the author?s inner journey towards a new understanding of her roots and her identity.
With its riveting mix of lively reportage, high adventure, historical inquiry and personal memoir, this delightfully written book is a path-breaking travelogue.
A Journey in the Footsteps of Xuanzang
Mishi Saran
Penguin Books India
April 2005
Travel, History
pages: 456
Price: Rs 495.00
ISBN: 0670058238
Hardback