Kūkai on the Philosophy of Language
By Jacob Halcomb, The Buddhist Channel, 20 January 2014
Paris, France -- Kū­kai, the 9th Century Buddhist monk and polymath left an indelible mark on Japanese history and culture. Now, because of the excellent scholarship and work of Thomas Eijō Dreitlein and Shingen Takagi, readers the world over will benefit from some of Kukai's most important works in this authoritative collection of English-language translations.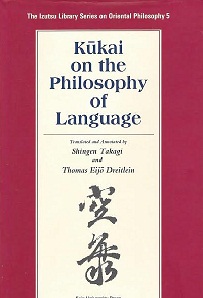 This expertly annotated, 428 page work offers some of Kukai's best known writings including: Sokushin jōbutsu gi (Buddhahood Immediately and in This Body); Shō-ji-jissō gi (The Meanings of Sound, Letter, and Reality); Unji gi (The Meanings of the Letter H­ūṃ); Konshōō-kyō himitsu kada (Secret Gāthās on the Suvaṃaprabhāsa-sūtra); Kanén no sho (On Encouraging Those with a Connection to Buddhism); and several more.
Each work is carefully dividing into sections, presented in both its original language and English which provides great value for scholars and serious students of Japanese Buddhism.
The addition of extensive annotations provides the reader with a wealth of background information, important historical and philosophical context, and expounds upon many of the more difficult teachings. The authors' exhaustive annotations provide the keys to unlock Kūkai's teachings for the average reader which gives this work an appeal with a much broader audience.
For this reader, one of the real gems of this work is the exhaustive 65-page glossary nestled among the appendices. Useful far beyond the confines of the book in which it rests it now has a permanent place at my desk and is often one of the first places I look for answers.
Though hard to find, you should make every effort to find a copy of this fantastic resource. Currently available on Amazon.com and from the publisher, Keio University Press.