Meditations of a Buddhist Skeptic
Columbia University Press, Jan 20, 2014
New York, USA -- Columbia University Press is pleased to announce the publication in paperback of "Meditations of a Buddhist Skeptic: A Manifesto for the Mind Sciences and Contemplative Practice" by B. Alan Wallace.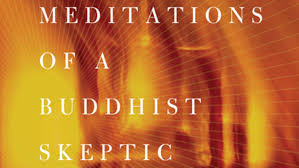 Renowned Buddhist philosopher B. Alan Wallace reasserts the power of shamatha and vipashyana, traditional Buddhist meditations, to clarify the mind's role in the natural world.
Raising profound questions about human nature, free will, and experience versus dogma, Wallace challenges the claim that consciousness is nothing more than an emergent property of the brain with little relation to universal events. Rather, he maintains that the observer is essential to measuring quantum systems and that mental phenomena (however conceived) influence brain function and behavior.
Wallace embarks on a two-part mission: to restore human nature and to transcend it. He begins by explaining the value of skepticism in Buddhism and science and the difficulty of merging their experiential methods of inquiry.
Yet Wallace also proves that Buddhist views on human nature and the possibility of free will liberate us from the metaphysical constraints of scientific materialism. He then explores the radical empiricism inspired by William James and applies it to Indian Buddhist philosophy's four schools and the Great Perfection school of Tibetan Buddhism. He concludes with an explanation of shamatha and vipashyana and their potential for realizing the full nature, origins, and potential of consciousness.
B. Alan Wallace spent fourteen years as a Buddhist monk, ordained by H. H. the Dalai Lama. He then earned his undergraduate degree, summa cum laude, in physics and the philosophy of science at Amherst College, and his doctorate in religious studies from Stanford University.
A prolific writer and translator of numerous Tibetan Buddhist texts, he is the founder and president of the Santa Barbara Institute for Consciousness Studies (http://columbia.us3.list-manage1.com/track/click?u=11d6d49da8ad12ebfa6557405&id=8756b3d579&e=33be059e16).
To read an excerpt or find out more about this work go to:
http://columbia.us3.list-manage1.com/track/click?u=11d6d49da8ad12ebfa6557405&id=bc8df7cd0c&e=33be059e16
Early praise
"The suggestion brought to the fore…that Buddhism may be a source of insight…is a welcome and tantalizing one."
- Daniel Stoljar, Nature
"This book is a stirring attack on the hubris and blind spots of the scientific establishment, combined with an engaging presentation of Buddhist wisdom as the antidote."
- Joseph S. O'Leary, Japan Times