Tracing the footsteps of Xuanzang
by Priyamvada Kowshik, Delhi Newsline, May 17, 2005
1,400 years after Chinese scholar Xuanzang travelled to India, an Indian tries to trace his steps
New Delhi, India -- She set out to be a doctor, and ended up following the Monk?s Shadow, travelling across China, Central Asia and India. Journalist-turned-author Mishi Saran followed the trail of Chinese Monk Xuanzang, 1,400 years after the scholar travelled to India to study Buddhist philosophy. Saran?s first book, Chasing the Monk?s Shadow (Penguin, Rs 495), was released on Monday.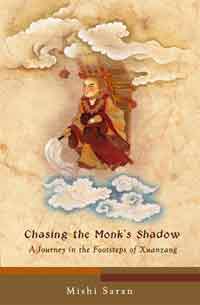 Her story often draws parallels with Xuanzang?s. For Saran, the journey was also a search for her identity. Like the Monk?s, who after spending over a decade in India, spoke, read and thought like an Indian. And when he returned to China with nearly 600 scriptures that he translated in Chinese, the country had begun to seem foreign. Saran?s sojourn freed her of her sense of rootlessness. ??I hold an Indian passport, but I lived in India only till I was 10. Then my family moved to various countries,?? says the 36-year-old author.
Although Xuanzang meticulously documented his travels, Saran?s book also delves into what was left unsaid. ??I hungered to know if he ever lost sight of his training... if loneliness crept into the sides of his mind... and if he succumbed to desire or greed,?? she says. The book also highlights the different time zones the two travelled in. The Monk, who made his journey before Islam arrived in Central Asia, describes Afghanistan as a beautiful land dotted by Buddhist monastries. Saran witnessed a land ravaged by war, whose Buddhist history had been erased. One has described the Bamiyan Buddhas in all its splendour, the other speaks of their destruction.
Saran also faced some problems. Like the difficulty in procuring a visa for Pakistan. Or the Taliban stopping her from crossing the Amu Darya in Afghanistan, where she went a month before 9/11.
Saran developed a ??craze?? for China when she went to Wellesly College, USA, intending to study medicine. ??Browing through the brochures I saw that they offered Chinese studies and decided to enroll,?? she recalls. Her only exposure to China, till then, had been a brief stopover at the Hong Kong airport. ??Someone said, look, that is Mainland China... and it stuck in my head,?? she says.
In 1988-89, as a final year undergraduate student, Saran took up an exchange programme and studied at the Beijing Foreign Languages Normal College. That the stint shaped the course of her life is evident now. ??She didn?t live like a foreigner there. Her interest in the byways of China seemed to have sparked her interest in making that journey from China to India,?? says Salman Haider, who was the ambassador to China when Saran was a student in Beijing. Haider was also present at the book release.
Saran, who worked as a journalist in Hong Kong, gave it up in 1999 to chase the Monk. Now, she is already on to her next book. She doesn?t let out much, but it is definitely not another chase.