Judaism, Meditation and The B-Word
By Jay Michaelson, Forward, June 10, 2005
New York, USA -- In 532 BCE, around the same time as scholars say the first books of the Bible were canonized in Babylon, an Indian nobleman named Siddhartha Gautama had a realization about suffering: that it is caused not by external factors but by clinging to fears and desires, and can be ended by following an "eightfold path" of wisdom, ethical conduct and mental development.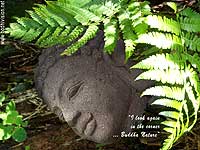 Instead of relying on anything outside the self for happiness, Siddhartha said that one could be fully at ease with whatever comes one's way ? riding the rollercoaster of human life without wanting to push away the hard parts and to hold on to the good. Siddhartha became known as the Buddha, and for 49 years he taught and preached ways to put his theory into practice.
There is little evidence that his Jewish contemporaries knew of him, or he of them. But over the centuries, the techniques the Buddha taught, particularly mindfulness and meditation, became widespread, and influenced some Jewish mystics and sages. Today, though, the relationships are far closer: Many leading Western Buddhist teachers are Jewish by birth.
There are rabbis who practice insight (vipassana) meditation and make use of its wisdom in their pastoral work. And on any given meditation retreat, you'll find plenty of Jewish people. It's taken 2,500 years, but the rivers of Babylon now include the Indus.
As a result of this intermingling and attraction, many Jews have sought to find analogues to the Buddha's teachings within Judaism. It's not enough for some simply to apply the techniques of mindfulness to Jewish ritual and see what happens; they want to cultivate "authentic" Jewish meditation, or to have their mindfulness practice "grounded in Jewish texts and traditions," as the dust jacket of Jonathan Slater's "Mindful Jewish Living" promises. The results vary, and the books under review here are fascinating examples of the range of variation.
At one extreme is Rabbi DovBer Pinson's "Meditation and Judaism." While aware of other meditative traditions (I know Pinson personally, and have studied with him in Brooklyn), Pinson limits himself to those practices specifically discussed in Jewish texts. Thus, while quite limited as a guide to meditation, his book is a goldmine for those interested in "indigenous" Jewish meditation. It's worth the price for its footnotes alone.
At another end of the spectrum is Jonathan Slater, a Conservative rabbi who co-directs the Institute for Jewish Spirituality, which runs retreats and programs for Jewish leaders so that they can support their spiritual lives. While his book, too, is replete with Jewish texts and sources (mostly from the Hasidic tradition), its core meditation practices are Buddhist: paying attention to the breath, noticing how emotions feel in the body and cultivating compassion for all beings. These practices are grounded in vipassana meditation, as taught by Sylvia Boorstein, who was Slater's teacher, and by many others in the Jewish-Buddhist world.
And yet, Slater's book never mentions the B-word, as if to write an explicity Buddhist-Jewish book would undermine his purpose, which seems to be to teach mindfulness to Jews. As a result, we get some very strange results. "Judaism is a form of mindfulness practice," Slater says early on, which "demands that we pay attention to what we are doing, and it is also a path that helps to wake us up to our lives."
Really? Perhaps mindfulness can enrich, transform and enliven Jewish practice. Perhaps, conversely, following mitzvot can lead to mindfulness. And perhaps the practices have the same ultimate goal. But are all the other elements of Jewish religious life ? peoplehood, covenant, holiness codes ? merely extrinsic to this core purpose?
The fact is, Moses and the Buddha taught different paths to realization. The Buddha, in the "Satipatthana Sutra," said that the direct path to realization is to be mindful at all times. When breathing in, know you are breathing in. When breathing out, know you are breathing out. Perhaps the Torah's core truths are similar, but surely the techniques to realize them are a little different.
Another line from Slater's introduction is, perhaps, more instructive: "The reality to which the heart wakes up through mindfulness practice is God." That, to me, is closer to why so many Jews embrace Buddhist meditation: because, steeped in Jewish God-talk, folkways and Torah learning, we recognize in our meditation experience what our sages have been talking about for centuries. The Hasidic texts quoted by Slater emphasize that if God is infinite, then God is really infinite, which means that God fills absolutely everything, including this paper, your thoughts and the air you are breathing. Yet obviously, that's not how it seems to us.
Meditation, proponents say, "opens the doors of perception," allowing for a richer experience of what is really happening now, which, because God is infinite, is none other than the God process Itself.
Crucially, the process of doing so is not a vague, "spiritual" exercise. Buddhism, unlike Judaism, made a science of understanding the mind. The practices its teachers developed over centuries are precise, empirically derived instructions on how to observe the mind's habits and tendencies. As a result, these practices are, at the very least, extremely valuable technology for the religious mind.
This fact is made all the more clear by a book like Pinson's. "Meditation and Judaism" feels very disorganized, and not just because of its many typographical errors; Jewish meditation is itself very disorganized. Yes, talmudic rabbis, Jewish rationalist philosophers, kabbalists and Hasidim all meditated. But as Pinson observes, meditation is not itself a commandment, and it was never a fundamental part of mainstream Jewish practice. As a result, in stark contrast to Buddhist meditation science, Jewish meditative techniques are scattered among different texts, unsystematized and not clearly grounded in a theory of mind. That there is no one Hebrew word for meditation itself speaks volumes.
To be sure, mindfulness in a general sense is fundamental to Jewish practice, and one need not play interpretive games to find it within our tradition. Kavanah, which means intention, or, more literally, "pointing" the mind, is an essential part of Jewish religious life. In addition, there are a wide variety of indigenous Jewish meditation practices, and Pinson's book is a veritable encyclopedia of them, from hitbodedut (physical and/or mental seclusion) to hitbonenut (contemplation) and visualization exercises. These practices are harder than most Buddhist practices ? they're often complicated, and don't explain how they work. Yet they can bring about profound insights and, as Pinson shows, they are derived from wholly Jewish sources, which is important for many people.
Maybe it shouldn't matter where the "technology" of mindfulness comes from. Does "paying attention" really need an intellectual history? Judaism has always learned from other traditions, so why not now? At the same time, however, I appreciate the candor of books such as "Beside Still Waters." That book, an excellent anthology of personal essays, describes how Judaism and Christianity have influenced Western Buddhism and, in turn, been influenced by it. Its authors are committed to their different traditions, yet open about borrowing language and techniques from others.
To be fair, Pinson's and Slater's purposes are different from that of "Beside Still Waters": Slater wants to write a guidebook for how to live mindfully and Jewishly, Pinson a survey of Jewish practices. So even if "Beside Still Waters" seems more honest, "Mindful Jewish Living" and "Meditation and Judaism" may be more useful.
Many today are worried about Buddhism because they're worried about assimilation, fearing that Jews are leaving Judaism. But "assimilation" has a second meaning, as well: to incorporate or absorb something into oneself. In this deeper meaning, the Jews always have been a people of assimilation. And from Aristotle to goulash, Temple pews to Moroccan maqamat (melodic modes), foreign influences enliven our experience of ourselves. Likewise, Slater's meditations end with a surprisingly traditional truth: that "pursuing the mitzvot, living fully in God's presence, may actually be the way home."
----------
Jay Michaelson is a teacher of meditation and Kabbalah.
Mindful Jewish Living: Compassionate Practice
By Jonathan P. Slater
Aviv Press, 300 pages, $24.95.
Meditation and Judaism: Exploring the Jewish Meditative Paths
By DovBer Pinson
Rowman & Littlefield Publishers, Inc., 304 pages, $35.
Beside Still Waters:
Jews, Christians, and the Way of the Buddha
Edited by Harold Kasimow, John P. Keenan and Linda Klepinger Keenan
Wisdom Publications, 288 pages, $14.95