Why the Buddhist Channel has decided to support the preservation of Bhante Dhammika's writings.
The Buddhist Channel, 17 January 2020
The crowd funding initiative to preserve "Bhante Dhammika's 40 years of work for future posterity!" can be accessed here: http://buddhistchannel.tv/dhm.html. The targeted funding amount is US$ 4,500 (MYR 18,450) and the funding duration is from 14th - 25th January, 2020.

Kuala Lumpur, Malaysia – Recently, during discussions with Bhante Shravasti Dhammika about transforming his books into E-Book versions (ePub3) and then hosting them in a dedicated Buddhist E-Bookstore, he made one very specific request; that any Buddha images used for any of the books must be Indian, not Thai, Burmese, Chinese or Japanese.... just Indian.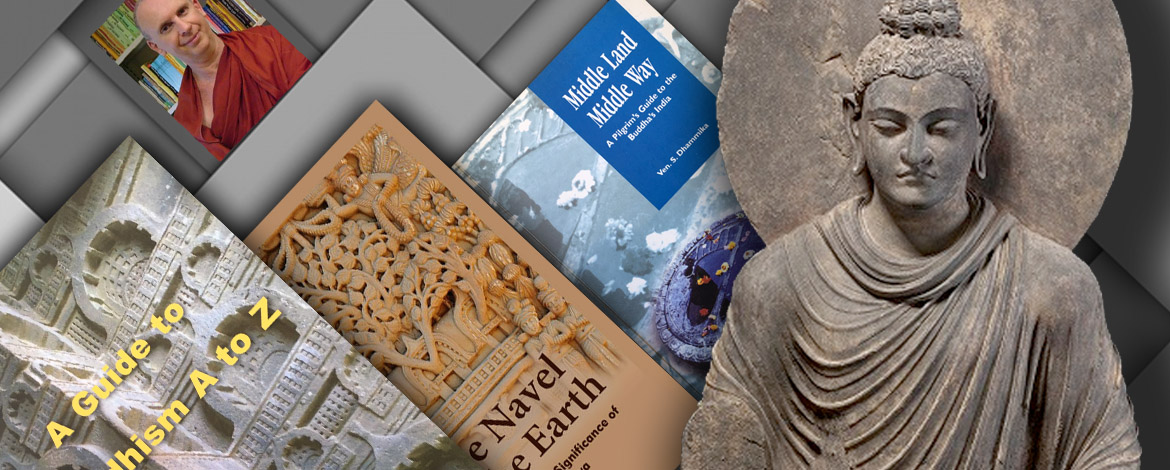 His reasoning was simple – the Buddha was an Indian and came from India.
What is paramount for Bhante Dhammika is Buddhist sources and for him the ultimate source of Buddhism is and should be the Tipitaka, the Three Baskets of the Buddha's teachings. They are the oldest and thus the most original account of the historical Buddha.
When asked about the philosophy that colours his writing, Bhante listed just three things, namely (1) what he writes is based on material from the Tipitaka, (2) he tries to look for things that others overlook or ignore, and (3) he tries to write using simple straightforward language.
Indeed, it is not hard to see how this philosophy is put to work.
For example, in his book The Buddha and his Disciples, instead of using the well-worn approach of repeating stereotypes and myths, Bhante sought instead to retell the characters' life stories "against the backdrop of the world which the events were acted out, a world with its unique customs, its political intrigue and its religious ferment. If the Buddha's quest and His encounters with others is set against this backdrop, it becomes one of the most fascinating stories ever told."
As a 'monk' storyteller, Bhante Dhammika looks at Pali sources not just in terms of their authenticity, but also seeks out their spiritual significance.
This approach is apparent in all the books and essays that he has written, from travel guide (Middle Land, Middle Way, one of the best book ever published on India's Buddhist pilgrim's sites), to psychological wellness (Coping with Depression the Buddhist Way), his Buddhist comics, and his most popular book (Good Questions, Good Answers) has been translated into 36 languages including Swahili and Catalan, and reprinted over a hundred times in English.
"What makes Bhante Dhammika books stand out", opines Lim Kooi Fong, founder of the Buddhist Channel, "is how he weaves these Buddhist stories sourced from Pali texts and then uses contemporary language to retell them in a manner that is easy to understand and appreciate."
Says Lim: "It is no mean task to dive into the sometimes long, dull, repetitious scriptures, understanding their essence and then craft readable stories out of them while not losing their spiritual essence. Bhante is one gifted writer and his work needs support to ensure that it reaches out to many, many more people."
This is why the Buddhist Channel fully believes that the time has come to bring Bhante's work to the next level. His 43 years of efforts has produced more than 25 books and numerous essays. By 2021, he will turn 70 and given the evergreen value of his effort, it is essential that new technologies be used to enable easy sharing and dissemination of his work. Recently Bhante has started researching and writing a detailed and comprehensive life of the Buddha which the Buddhist Channel plans to support in the coming months.
Lim explains: "Bhante's books will all be converted to Epub3 versions. This means that once published they can be read on mobile gadgets (phones, tablets etc) that have Kindle, Kobo, Nook, Apple Books, Google Playbooks etc installed. All E-Books will be distributed for free."
What Epub3 does to the books is that they will be transformed into interactive media, where readers can bookmark, highlight texts, add notes, search and even listen to text being read aloud by an electronic voice. Social media tools will enable these materials to be shared freely and widely.
In fact, the platform will enable (and even encourage) readers to share nuggets and gems taken from the books and allow them go viral over social media. This in essence, brings the meaning of "going forth, for well being and benefit of all beings" (i.e. Dhamma outreach) to a whole new level.
These technological upgrades will serve to meet needs of a new generation of content users. From millennials who would want to turn on the read aloud feature as they get stuck in traffic jams, to young adults who prefer consuming content from their mobile phones, the E-Book technology opens up new opportunities to not only serve a 'bookless' generation, but also enable access across borders and into places where Buddhists there generally find it hard to obtain good quality materials.
Lim feels that in general Buddhists tend to place too much emphasis in building temples and making Buddha statues. While he believes that these are meritorious deeds, sharing the Dhamma is equally, if not more, essential.
According to Lim: "During the hey days of the Mahayana Tien Tai school, making duplication of Buddhist texts was hailed as meritorious karma. It was through these copious copies of the scriptures that a physical system of teaching and practice was established. Without this physical system, Buddhism would not have spread so far and wide in China, Korea and Japan as it did."
Lim believes that existing technological capabilities such as ubiquitous wifi, prevalent mobile gadgets, high speed broadband will become the new impetus to spread the Buddha's message far and wide. "Provided of course", he emphasizes, "it carries quality content, where it actually engages peoples' attention."
A monk storyteller and Epub3! If only the Buddha knew how Dhammaduta has been transformed since he drew his last breath at Kusinara.
The crowd funding campaign
The Crowd Funding initiative '
To Preserve Bhante Dhammika's 40 years of work for future posterity
' can be found here:
http://buddhistchannel.tv/dhm.html
The targeted funding amount sought is
US$ 4,500 (MYR 18,450)
and the funding duration is from the 14th to the 25th of January, 2020. If you wish to support this initiative, please go to:
http://buddhistchannel.tv/dhm.html
All donors will have their names published inside the books/essays/apps for as long as the materials are hosted on the cloud. Donors may also make transference of merits to their departed ones which we will publish on the inside flap of the back cover.