New Resource Examines Role of Faith in Mental Health
MARKET WIRE, Sept 15, 2005
New York, USA -- Harold G. Koenig, M.D., internationally recognized for his groundbreaking research on how religious involvement is associated with better physical health, opens a window on mental health in a new book, just released by Templeton Foundation Press.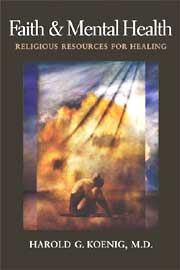 In "Faith and Mental Health: Religious Resources for Healing" ($29.95), he provides an unprecedented source of practical information about the relationship between religion and mental health. Using scientific methodology, he explores how religious beliefs and practices are related to coping and positive emotions, as well as the use of religion for psychiatric disorders, substance abuse disorders, and severe mental illness. Based on this research, he offers an evaluation of whether religious faith represents a resource or a liability in terms of mental health.
Dr. Koenig begins by examining the evolution of the relationship between religion and mental health through the centuries. Historically, major religious traditions have related to the mentally ill and emotionally vulnerable in ways that range from positive to fearful to violent. Today there is a growing consensus that religious factors influence the mental health and wellbeing of persons with mental illness. Drawing on hundreds of research studies and clinical trials that examine the effectiveness of religious psychotherapies from Christian, Muslim, and Buddhist perspectives, Dr. Koenig describes the ways that religious faith can contribute to mental health.
He focuses on the role of clergy, religious organizations, and faith communities in caring for those with emotional problems and severe mental illness. He describes five categories of faith-based organizations (FBOs) that deliver mental health services and provides details on their organization and mission, along with examples that illustrate their functions.
Even as faith-based groups strive to support the delivery of mental health services, barriers remain to both research and implementation. Dr. Koenig outlines these obstacles that stand in the way of scientific research on the relationship between religion and mental health: methodological, focus/priority, funding, and attitudinal. He examines ways of overcoming these barriers, suggesting and detailing possible solutions that will require the cooperation between government agencies and private and faith-based groups.
A unique combination of both the history and the current research of mental health and religion, along with a thorough examination of faith-based organizations operating in the field, "Faith and Mental Health" is a resource for the healthcare community, including medical school professionals and caregivers; for religious professionals from pastoral counselors to chaplains; and for everyone concerned with the future of mental health care.
Dr. Koenig completed his undergraduate education at Stanford University, his medical school training at the University of California at San Francisco, and his geriatric medicine, psychiatry, and biostatistics training at Duke University Medical Center. Board certified in general psychiatry, geriatric psychiatry, and geriatric medicine, he is professor of psychiatry and behavioral sciences and associate professor of medicine at Duke University Medical Center. He is director and founder of Duke's Center for the Study of Religion/Spirituality and Health; editor of the International Journal of Psychiatry in Medicine, a medical research journal; and editor-in-chief of Science and Theology News, a monthly international newspaper. He has published extensively in the fields of mental health, geriatrics, and religion.
Contact: Diane Glynn
Publicity Email: Contact via http://www.marketwire.com/mw/emailprcntct?id=B109E936ABB3E1B5
SOURCE: Templeton Foundation Press