They Said It Was ?Impossible!?
Yak Butter Blues: A Tibetan Trek of Faith (Heliographica, October 2004), Review published on the Buddhist Channel, Nov 24, 2004
Yak Butter Blues: A Tibetan Trek of Faith
Publisher: Heliographica, October 2004,
Price: $16.98 pb, $26.98 hardcover
A Tibetan Journey of a Thousand Kilometers Began with One Bold Step. ?Impossible? was what everyone told Brandon Wilson and his wife Cheryl when they began talking about walking a 1000-kilometer ancient pilgrimage trail across Tibet. But those ?impossibilities? only made them more determined. Their quest to become possibly the first Western couple to trek this trail across the earth?s most remote corner was far from your usual travel fare - some even called it sheer lunacy. It was certainly far from easy or predictable.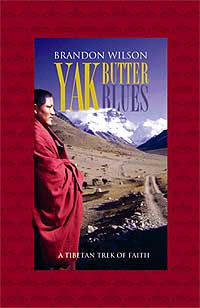 Alone, with only their stalwart Tibetan horse Sadhu, the Wilsons faced Tibet?s
ruthless environment head-on: the blistering winds, extreme temperatures, sandstorms, blizzards, and the thinnest of air?made all the more challenging by exhaustion, hunger, illness, inflexiblebureaucrats and implacable, trigger-happy Chinese soldiers .
Although the land and climate left their imprints daily, an even more lasting impression on these adventurers was created by Tibetan pilgrims, monks and generous villagers eager to share what little they possess: yak butter tea, the warmth of their family?s fire, camaraderie and a steadfast trust in the Dalai Lama?s return.
Inadvertently, the couple became an invaluable witness to a culture pushed to the brink of extinction by brutal occupation. The author sympathetically interweaves the story of Tibet?s current plight and struggle to survive into their own.
Along this simple path, the Wilsons discovered the human link connecting us all, a link that
becomes clearest on a trek that removes the distractions of modern life as it unveils the
truths of ?deliberate travel.? In doing so, the couple found a sense of greater purpose,
wonder, a renewed faith and ultimately what it takes to endure.
This colorful, candid, caring and classic tale leads readers along on a physical, spiritual and emotional pilgrimage across this startling land ? on a thousand-kilometer odyssey once called ?Impossible.?
Contact: Kate Bandos, KSB Promotions
800-304-3269 ? kate@ksbpromotions.com
About the Author
Brandon Wilson is an adventure-travel writer whose stories have appeared in many national magazines, newspapers and on Internet sites. An adventurer and expert trekker, he is passionate about inspiring others with the possibility of discovery through long-distance hiking.
Although already a voracious explorer of over ninety countries, this Tibetan odyssey opened his eyes to the deep satisfaction of traveling ?one-step-at-a-time.? By slowing down, he believes, ?We absorb the hidden ?magic? in the world.We travel outside?while traveling within.?
Since Tibet, Wilson has trekked three other major pilgrimage trails: the famed Camino de Santiago across Spain; the ninth century, 1150-mile Via Francigena from England to Rome (he is the first American to complete this route), and he is currently trekking the 400-mile St. Olav?sWay across Norway.
Wilson?s photographs have won awards from National Geographic Traveler and Islands magazines.
------------

Yak Butter Blues: A Tibetan Trek of Faith
by Brandon Wilson
288 pages, Travel Narrative/Non-Fiction
27 duo-tone photographs & maps
5.5" x 8.5" ? ISBN: 1-933037-24-5 ? $16.98 trade paperback
6" x 9" ? ISBN: 1-933037-23-7 ? $26.98 ? hardcover
Publication date: October 2004
Published by Heliographica, San Francisco, CA
An imprint of Pilgrim?s Tales
Distributed by Ingram and Baker & Taylor
Available at bookstores, Amazon.com, BN.com, Borders.com,
or Heliographica.com.
To request a review copy of Yak Butter Blues, arrange an interview with Brandon Wilson,
or for any additional information, please contact Kate Bandos at KSB Promotions
800-304-3269 or 616-676-0758 ? kate@ksbpromotions.com ? fax 616-676-0759
?Travel in Tibet is rough, but attempting it Tibetan-style - and with winter approaching - amounts to sheer lunacy. Brandon Wilson and his wife Cheryl - along with a trusty packhorse named Sadhu - set off on the ultimate trek: to walk an ancient pilgrimage and trading route from Lhasa to Kathmandu. Their zany adventures leap from the pages of this book - getting showered in dust, coated in snow, hammered by the wind, getting lost, getting shot at. More to the point, this grueling form of travel brings them close to the
extraordinary people and the breathtaking landscapes of the Tibetan plateau.
Told with humor and insight, this vivid narrative allows you to vicariously experience life at true Tibetan pace, one step at a time: so close, you can almost smell the yak butter.?

~ Michael Buckley, author of Tibet: the Bradt Travel Guide and Heartlands: Travels in the Tibetan World