Trailing the Buddha
by Shirin Abbas, Express India, July 7, 2006
Agra, India -- It all started with his stint as a bureaucrat in Agra. "There are so many monuments in Agra but very little has been done to categorise, number and archaeologically record their details," says Chob Singh Verma. What started as a cursory interest in heritage and history has resulted in Verma penning a detailed book on Buddhist sites in and around Kapilvastu while he was posted as Siddharthnagar District Magistrate.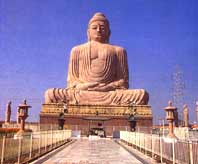 << Siddhartha spent his early life in Kapilavastu as a prince, mostly oblivious of worldly miseries
The book, Kapilvastu: The Blessed Land of the Buddha, details the Buddhist sites at Kapilvastu where Gautam Buddha spent 29 years of his life before he renounced the world in quest of salvation.
Verma, who hails from an Economics background, says it was his interest in preserving and conserving history that was the catalyst behind the work. "While researching the period I also came across hitherto unexplored sites at Parigawan and documented the evidence. On reading more about the period I learnt about the famous archeologist KM Srivastava who had conducted excavations around the region and searched him out. I then approached him with my research work and he confirmed that this contemporary material added to his own findings of the region.
Apart from providing interesting insight about the sites in and around the region, Verma's work is a handy reference guide to the curious traveler keen to visit these sites and provides useful information regarding How to Reach and where to stay in Kapilvastu, a modern history of Buddha's lands and also insight about European estates and their estates in the region.
The passion for history trails Verma to his present posting as district magistrate at Jyotiba Phule Nagar where he is currently devoting time to tracing the origins of old Shia families in Amroha and thereabouts. So we know where his next inspiration comes from, for now.
Kapilvastu: The Blessed Land of the Buddha
Price Rs 650
Available at select bookstores.