Buddha: Compassion can ease many ills
Mail Tribune, February 6, 2007
Oregon, USA -- There it was staring at me from its shelf, beckoning me to purchase it. I deferred. And the next time I went into the store with a changed mind, it was gone.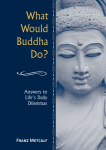 I was a little irritated at myself for not acting when I had the opportunity, and maybe just a bit at the clerk who said she would place an order, but "it might take a while."
"What would Buddha do?"
That was it. That was what I intended to purchase, a book by Dr. Franz Metcalf, titled just that, "What Would Buddha Do? 101 Answers to Life's Daily Dilemmas." The book was asking questions that ranged from "What would Buddha do for the homeless?" to "What would Buddha do if he cannot resist having dessert?"
I have become enchanted with Buddhism of late. My husband and I took a short, but wonderful before-the-holidays trip to Thailand (he was traveling for business reasons; I was traveling with him because we had just enough frequent flier miles).
It's touted as the "land of smiling faces." It fits. And 95 percent of these generous-hearted people practice Buddhism. We were told by one mellow, aging Thai that Buddhism is very simple: "There are five principles: no lying, no stealing, no adultery and no alcohol — and no killing, which, as he put it "is not easy to honor during mosquito season."
I spoke with saffron-robed monks who talked about it not just as a religion but as a philosophy of life. Buddha was a psychologist of sorts who reportedly "dispensed the medicine of insight into our human problems and how to transcend them." What thinking person does not want greater insight?
I have purchased many books on Buddhism, and I will read them, but admittedly this little paperback is the most immediately engaging. So what would Buddha do about homelessness?
He makes his body into food and drink

first relieving hunger and thirst

then teaching people the truth.

where there are those in poverty and need

he comes with unending supplies

allowing them to encourage and lead others
The author's interpretation, "When homeless people bum a buck from you, don't be too critical; when they are ready they will lead others. In the meantime, let's show some compassion."
In many ways this may be similar to the "What would Jesus do?" phenomenon. I like the idea of taking a moment to reflect more completely when considering a choice before us, thinking about it in a different manner, initiating a new perspective. I'm thinking pause-and-ponder reflection is something to engage in regardless of backgrounds and beliefs. It's potentially powerful and in the end, practical.
What would Buddha do when he can't resist having dessert?

Enjoying the senses, she stays clean of them,

She picks the lotus without getting wet

She has reached the root and capers free of senses

even while indulging them.

— Saraha, Dohakosha 64
Interpretation: "We all indulge ourselves sometimes. Buddha understands."
Buddha does understand, because when a monk asked, "Can you say something that transcends the Buddhas and ancestors," the master said, "Sesame flatbread."

-- Blue Cliff Record 77
-----------------------
Sharon Johnson is as associate professor in the College of Health and Human Sciences at Oregon State University and on the faculty of the OSU Extension Service. She can be reached at s.johnson@oregonstate.edu