Portrait of a holy man
By KATHY MILLEN, The Naperville Sun, April 5, 2007
Naperville journalist tells story of Dalai Lama
Naperville, IL (USA) -- He probably could have had any seat in the house, but Mayank Chhaya preferred to stand in the back of the crowded college lecture hall in New Delhi when the celebrated monk took the stage.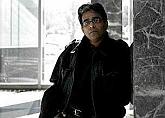 << Mayank Chhaya, of Naperville, is the author of the recently published biography "Dalai Lama: Man, Monk, Mystic." The book is the only authorized biography of the holy man written by a non-Buddhist. (Kate Szrom/Staff photographer)
It was a good vantage point to watch the reactions of the admiring crowd of some 5,000 people, mostly students. It also gave him a full view of the charismatic man who had long captivated millions of people around the world, himself included.
Dressed in an ochre-colored robe, he rhythmically swayed back and forth, reminding Chhaya of a flickering candle flame. Everyone waited eagerly for his first words but he seemed oddly distracted by something overhead. When he finally began to speak it was to reminisce about the last time he had been in that building and the family of pigeons he had seen nesting in its rafters. As if on cue, a pigeon flew across the hall.
The Dalai Lama had his audience in the palm of his hand.
Chhaya, 46, of Naperville, is a seasoned journalist who professes no religious beliefs. He called the timely appearance of the bird a coincidence. Still, he admitted, coincidences seem to happen to the Dalai Lama with some regularity.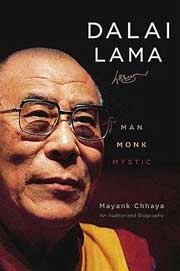 In 1997, Chhaya gained entree into the Dalai Lama's life, interviewing him on several occasions and attending many of his public lectures. The result is "Dalai Lama, Man, Monk, Mystic," an authorized biography published earlier this month by Doubleday. The book is available for $23.95 at all major book stores.
Chhaya is the first non-Buddhist authorized to write the 71-year-old monk's story, which not only paints a personal portrait of the 14th Dalai Lama, but also looks at the Chinese occupation of his native Tibet. The book focuses largely on the Dalai Lama's life since his exile from his homeland and explores how he balances his roles of man, monk and mystic.
It is the second book by Chhaya, who was born in India, and has lived in the United States for nearly a decade. His first was "Sam Pitroda," a 1992 biography about the man who spearheaded the technological revolution in India during the 1980s.
The chosen one
Chhaya was a journalist based in India in 1996 when he was assigned to write a piece on Tibetan exiles in that country. He sought and was granted an interview with the Dalai Lama and, during the course of that meeting, Chhaya expressed an interest in writing the holy man's biography.
"He laughed it off, the self-effacing person that he tends to be," Chhaya recalled. "He simply did not respond in a serious way. He was very polite about my offer, but it didn't go anywhere."
Chhaya wrote the article and sent off a few copies to the Dalai Lama with a note renewing his book offer. A few weeks later, after submitting a proposed outline, he got the green light.
He brought to the project several years of experience as a journalist, a career path he chose after earning a graduate degree in chemistry and physics. He started as a general assignment reporter on the night shift at the Free Press Journal, a daily paper in Bombay. He continued to cover India, Pakistan and Sri Lanka for other employers, including the Associated Press and the New York-based weekly, India Abroad.
After moving to the United States in 1998, he worked for publications in California and New York before other writing projects brought him to Chicago nearly two years ago. He is currently a commentator on South Asian affairs for the New Delhi-based Indo-Asian News Service and also runs his own news and current affairs Web site at www.dailysub.com. He and his wife, Kesumi, and their children, Jashn, 11, and Hayaa, 4, moved to Naperville late last summer.
Off to a good start
The book has gotten largely positive reviews. Publishers Weekly called it "fascinating and demystifying," and Booklist praised it as "meticulously researched" and said it "carefully presents diverse viewpoints of the Tibet-China conflict while simultaneously drawing an insightful portrait of this enigmatic personage."
Trace Murphy, editor-in-chief of Doubleday Religious Publishing, said that Chhaya's background as a journalist, his personal knowledge of the region and his dedication to the story has enabled him to make a complex subject accessible to a general readership.
"Among those books which have looked at the Dalai Lama's life, Mayank's stands apart because of his perspective as a journalist and as a non-Buddhist," Murphy said. "I think this has given him a more objective appreciation for the Dalai Lama's importance as a contemporary leader and historic figure."
Chhaya said the Dalai Lama is a thinker, philosopher and deceptively profound man who is the most consequential of the Dalai Lama lineage. He is a follower of Buddhism, but doesn't proselytize. He enjoys a good debate and doesn't shy away from answering any question.
During their time together, Chhaya asked him many. They talked freely about all kinds of subjects including physics, celibacy and sexuality, gardening, Tibet, and the Nobel Peace Prize he received in 1989.
To further flesh out the story, Chhaya spent two years interviewing hundreds of people with connections to his subject, including Robert Thurman, a foremost scholar of Tibetan Buddhism; China scholar Orville Schell, dean of the Berkeley School of Journalism; actor and Buddhism devotee Richard Gere; British actor and travel host Michael Palin; the Dalai Lama's elder brother Thubten Jigme Norbu; and scores of Tibetans, scholars and diplomats.
Despite his longtime interest in the Dalai Lama, Chhaya said that at no time was he ever in awe of the man. He thinks everyone is capable of the same kind of enlightenment, something the Dalai Lama himself believes.
But Chhaya said he couldn't help but admire those qualities that have made the Dalai Lama a world renowned figure for decades. Among them are his ability to be at home in any place or situation, his sense of humor, his appreciation of the impermanence of life, his commitment to nonviolence and the deep compassion he has for others.
"Those are the things I used to think about," Chhaya said. "But those concepts became much clearer after I started interacting with the Dalai Lama."