A Buddhist soldier at Abu Ghraib
by Dewey Hammond, San Francisco Chronicle, August 5, 2007
The Sutras of Abu Ghraib
Notes From a Conscientious Objector in Iraq
By Aidan Delgado
BEACON; 228 PAGES; $24.95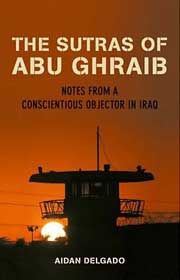 San Francisco, CA (USA) -- Aidan Delgado enlisted in the U.S. Army Reserve moments before the first of two planes hit the World Trade Center on Sept. 11, 2001. His recruiter dropped him off at home on the way to report to her unit. "I feel a swirl of emotion: confusion, fear, excitement ..." he writes. "The country is under attack and I'm in the Army, sort of."
He later found himself in the thick of Abu Ghraib, where a prisoner-torture scandal rocked the world in April 2004. That same month, the Army granted him conscientious-objector status because he is a Buddhist. He was then honorably discharged. Delgado's three-year experience in the Army is the basis of "The Sutras of Abu Ghraib: Notes From a Conscientious Objector in Iraq."
The book's title is a bit misleading in the sense that nothing Delgado experienced at Abu Ghraib had any impact on his decision to apply for CO status. The application had been submitted months before he had ever been to the prison, probably before he'd ever heard of it. But readers won't feel duped. "The Sutras of Abu Ghraib" is engaging and emotional, and some of its best material is born out of the author's time at the prison. "One evening, Schumacher walks into our room with a glittering CD clenched in his fist," Delgado writes. "He asks to borrow Patterson's computer, and the three of us sit down to see what he's got." What he had were some of the first pictures of prisoner abuse at Abu Ghraib.
More than nine months passed before the Army approved Delgado's application for CO status, during which time Delgado honored his responsibilities, both to the Army and to his fellow soldiers, all of whom were aware of Delgado's request. Although the soldiers closest to him remained supportive, some victimized Delgado, and many despised him.
The son of an American diplomat, Delgado was raised in Cairo, where he learned to speak Arabic. Although this was occasionally helpful in Iraq, it also made him an easier target for those soldiers wishing to brand him a terrorist sympathizer. His family later moved to Sarasota, Fla., where he enrolled in college. But he was apathetic about his studies. When a professor booted him out of a Buddhism class because of poor attendance, he joined the Army.
In the weeks before the start of basic training, he picked up a book on Buddhism, ironically one of the ones he was supposed to have read in class. In "The Sutras of Abu Ghraib," he writes that he "didn't become a Buddhist" but that he'd been one his whole life and just never realized it. He read nonstop throughout the night, finishing one text on Buddhism and moving on to the next.
Throughout the book, Delgado smartly avoids politics and focuses instead on his experience. He peels away the layers of warfare and Army life, letting readers draw their own conclusions. He offers candid opinions without riding the high horse. The war is his antithesis, but many of its soldiers are his friends. He describes a particularly difficult two-week personal leave that he spent in Florida: He missed the familiarity of Iraq and felt sickened that the only place that felt like home was the place he wanted more than anything to leave.
Delgado's allegiance to Buddhism, a religion rooted in pacifism and positive behavior, simply could not co-exist with the Army, though this was not a conclusion he reached easily. For many months he tried to convince himself that the moral dilemmas he faced in the Army might strengthen his faith. Eventually, though, he had to admit to himself that there was no way for a Buddhist to also be a soldier. And even though he was only a motor-pool mechanic, he knew that even fixing a tire was implicit support of the war effort.
In addition to his duties as a mechanic, Delgado was assigned to be a radio operator at Abu Ghraib's headquarters, where he worked 24-hour shifts doing grunt work for senior officers. Working with senior officers and experiencing firsthand the Army's bureaucracy and hypocrisy strengthened his resolve. It also gave him a unique vantage point on Iraq's most-famous prison.
Delgado started his tour in southern Iraq, far from Baghdad and most of the action. His anecdotes about killing time in the desert are as interesting as those in which mortars rain from the sky. Soldiers killed time with fights staged between camel spiders and scorpions. They hunted rats, and when that got old they hunted malnourished dogs from the backs of pickups. That escalated into throwing garbage at Iraqi citizens. "Time skips forward," he writes, "and suddenly we're at Abu Ghraib and there are no more spiders to play with, so people invent new games."
-----------
More Dewey Hammond's articles at www.deweyhammond.com.