Gautama Buddha is India's best spiritual brand
PTI, September 16, 2007
NEW DELHI, India -- Gautama Buddha is India's best spiritual brand, new age guru Deepak Chopra says in his new book on the founder of Buddhism.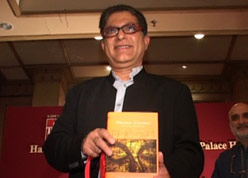 << Chopra's book tracks Buddha from the time of his birth as Prince Siddhartha, to His Enlightenment.
"Buddha: A Story of Enlightenment", launched here last night, is a new form of teaching from Chopra, who has been a pre-eminent voice of Eastern philosophy in the West.

In his book, published by HarperCollins India, Chopra describes the iconic journey of the prince who became the Buddha and influenced the world with his teachings.

Chopra said he wanted to bring Buddha out of the mists of time, to fill him out in flesh and blood while still preserving his mystery.


"Buddha was born at a time when Vedic culture was becoming a slave at the hands of corrupt Hindu hierarchy," he said at the launch which was followed by a question-answer session.
Though Chopra calls 'Buddha...' fictionalised in many of its externals, it is 'psychologically true'.
"The priestly class of Hindu hierarchy took all the beauty of Vedic culture and introduced power mongering and vices," he said.
But Buddha stripped Hinduism of its rituals and though he was not initially accepted because of his radicalism, he slowly succeeded in making an impact, Chopra said.
"From then he has become India's best spiritual brand," he said.
"Buddha was as mortal as you and I, yet he attained enlightenment and was raised to the rank of an immortal. The miracle is that he got there following a heart as human as yours and mine, and just as vulnerable," he said.
Chopra was named by Time magazine this year as one of the 100 heroes and icons of the century. He is acknowledged as one of the greatest leaders in alternative medicine and is also the founder of the Chopra Center of Wellbeing in California.
The book describes in a lucid manner how a young man in line for the throne is trapped in his father's kingdom and yearns for the outside world.
Betrayed by those closest to him, Siddhartha abandons his palace and princely title. He becomes a wandering monk and embarks on a spiritual fast that carries him to the brink of death.
Ultimately recognising his inability to conquer his body and mind by sheer will, Siddhartha transcends his physical pain and achieves enlightenment.