Buddhist Nun's Guides to Living Mindfully
The Buddhist Channel, Jan 3, 2008
Brooklyn, NY, (USA) -- The environment, sustainability, peace, and personal happiness are issues on everyone's mind. But it is clear that not everyone knows how to sustain themselves and their surroundings, or to promote their own health and that of the world around them.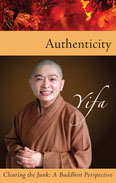 Religion has tried to assist with these challenges for millennia, but few nuns, priests or ministers have had approaches palatable for those outside their congregations. Venerable Yifa, a Buddhist nun of the Fo Guang Shan order, speaks candidly about issues facing everyone:
- Clutter and waste in one's home, environment, and conversation
- Unhealthy food
- Destructive relationships
- Obsession with materialism and convenience
- Terrorism and war
- Old age and loss
Yifa does not expect that everyone turn to Buddhism for answers to their struggles, but she does believe that her experience with Buddhist practice has something to offer everyone who does face struggle. She has released two new titles from Lantern Books (available now).
Authenticity: Clearing the Junk, A Buddhist Perspective
explores junk in all its ramifications, and how the fast-paced nature of our society is diminishing our ability to connect wholeheartedly with others and our surroundings, and making it harder for us to lead authentic lives. Through consciously separating out what is junk from what is genuine, Yifa says, we can gain equanimity, clarity of purpose, and true closeness.
http://www.lanternbooks.com/detail.html?id=9781590561096
The Tender Heart: A Buddhist Response to Suffering addresses how and why suffering occurs, and gives perspective on the nature of suffering, the meaning of justice, and what is truly good. Yifa discusses suffering from a practical standpoint, and guides the reader in reaching out to heal others and protect ourselves when suffering strikes.
http://lanternbooks.com/detail.html?id=9781590561119
Venerable Yifa applies the essential Buddhist ideas of compassion and mindfulness to contemporary problems. She belongs to the religious order Fo Guang Shan, which seeks to make ancient Buddhist practice relevant now. Yifa lives at Hsi Lai Temple in Hacienda Heights, CA.
http://lanternbooks.com/author.html?au=1402
To order, go to www.lanternbooks.com or call 1-800-856-8664.
Lantern Books
128 Second Place, Garden Suite
Brooklyn, NY 11231-4102
tel: 212.414.2275
fax: 212.414.2412
promotion@lanternbooks.com
www.lanternbooks.com
contact: Kara Davis