Change from within, says Dalai Lama
by Shashi Tharoor, Times of India, Apr 13, 2008
New Delhi, India -- When the United Nations convened a Millennium World Peace Summit of religious leaders at its headquarters in 2000, one major religious figure was conspicuous by his absence. The Dalai Lama, the spiritual and political leader of Tibetan Buddhism, had not been asked to come.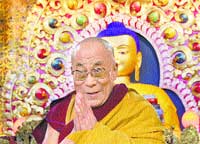 << Dalai Lama
The implacable hostility of a permanent member of the UN Security Council, China, has made it impossible for him to set foot in a UN building anywhere, or to be received by any official of the UN, let alone its secretary-general. Where millions see a revered seeker of peace and an admired advocate of love and reconciliation, the government in Beijing sees only a "splittist," a secessionist rebel who threatens Chinese sovereignty over his homeland.
This dichotomy has always been inherent in the role of the Dalai Lama. He is simultaneously the most visible spiritual leader of a worldwide community of believers, and the political head of a government in exile. As a Buddhist he preaches non-attachment, self-realisation, inner actualisation and non-violence; as a Tibetan he is looked up to by a people fiercely attached to their homeland, most seeking its independence from China, many determined to fight for it. He has been a refugee for nearly five decades, but is the most recognised worldwide symbol of a country he has not seen in half a century.
His message of peace, love and reconciliation has found adherents amongst Hollywood movie stars and pony-tailed hippies, Irish rock musicians and Indian politicians; but he has made no headway at all with the regime that rules his homeland, and has been unable to prevent Tibet's inexorable transformation into one more Chinese province. His sermons fill football stadiums and he has won a Nobel Prize, but political leaders around the world shirk from meeting him openly, for fear of causing costly offense to the Chinese.
Pico Iyer's elegant and intensely personal new book, The Open Road, attempts to explore some of these contradictions. Iyer's father began meeting the Dalai Lama when both men were in their 20s, and the author followed in his paternal footsteps, calling on the Dalai Lama and his circle of followers and advisers around the world multiple times over the past three decades. This volume is an attempt to record, in Iyer's characteristically limpid prose, some of these conversations and encounters. It portrays the Dalai Lama as a public figure, at religious gatherings and official meetings; as a private person, reflecting in conversations with the author on the values and concerns that animate his life; and, somewhat less successfully, as a politician on the global stage.
The author, despite considering himself a "non-belonger", does not hide his admiration for his subject. Iyer's book is replete with intimate observation, suffused with great affection: even the Dalai Lama's polishing his glasses suggests, to Iyer, "a metaphor for what he's encouraging all of us to do". The Dalai Lama's easy grace upon entering a room, his infectiously loud laughter, his intellectual agility and scientific curiosity, all leap forth from the page. So does his sense of being anchored in the present, and in "reality" (a word Iyer repeatedly cites). The Dalai Lama calls himself "a simple Buddhist monk", bound by 253 different vows, but he has proven himself to be anything but simple and so much more than a monk. To Tibetans he is "their homeland, as well as their faith and their sense of self." His fame, too, is a worldly asset: "in a world where celebrity is ever more a global currency, the spiritual celebrity is the one who can actually change the coin of the realm into something more precious or sustaining."
The Open Road intermittently showcases Iyer's distinctive strength, his vivid travel writing. In several books now he has demonstrated his talent for evocative description, allied to a keen eye for the telling detail, and in The Open Road he conjures up the Tibetan settlement of Dharamsala so wonderfully ("a community founded on longing, on homesickness and restlessness and dreams") that one is afraid to visit the town for fear that it will not live up to his recreation of it. (Can one hope to find the meditation centre whose typed schedule lists "Breakfast/ Impermanence and Death/ Suffering/ Selflessness/ Dinner/ Equanimity")?
Iyer's book is a curious combination of travelogue and reportage, fascinating and readable throughout, which manages to be thoughtful without quite being analytical enough. Politics is an activity for which Pico Iyer has not quite the same feel as the other topics on which he has brought his intelligence and erudition to bear, and it shows; the Dalai Lama's relationship (or lack thereof) with the Chinese government, and the complications this has caused him as an international political figure, are barely mentioned. Tibetan voices critical of the Dalai Lama are quoted, with no assessment of their impact or plausibility.
The Dalai Lama's focus, Pico Iyer writes, is "always to the future, which can be changed, and not to the past, which cannot." The fact that, thanks to him, Tibetan Buddhists have created a global networked community to substitute for the indigenous one they are unable to sustain at home, might well assure that future. The spiritual message — to build one's home within oneself — is all the more relevant when one can no longer rebuild the external home that one has been forced to flee. Some impatient young Tibetans want freedom in this world rather than freedom from this world, but the Dalai Lama has long realised that the only transformation that is possible for his people is within themselves. Beijing does not seem to realise that the reviled secessionist is more interested in sovereignty over the self than in the sovereignty of his now-vanished state.
The Dalai Lama, The Open Road acknowledges, doesn't have all the answers; "it's the questions he puts into play that invigorate". One could say the same about Pico Iyer and his marvellous little book.