Dharma Bum
By AMY FINNERTY, New York Times, May 4, 2008
New York, USA -- In this memoir of a musical prodigy's avatar as a Buddhist monk, Nikolai Grozni, the author of three novels published in his native Bulgaria, dwells on the "overriding, blissfully benumbing feeling of resignation to the moment" that keeps him in the Indian town of Dharamsala.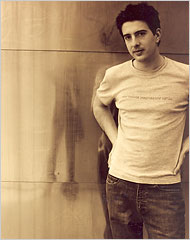 << Nikolai Grozni. Photo: Danielle Trussoni
Having quit music school, Grozni takes vows of celibacy, memorizes texts and strives not to kill the bugs that carry malaria. For a time, his renunciation of art, sex and empiricism seem worth the sacrifice.
The refined Grozni is sometimes irked by monastic life. There are monks who fail, or decline, to grasp the history, science and joie de vivre that the worldly European takes for granted. There are all the persnickety protocols. Yet the author is drawn to the Tibetans living in the region, refugees from the place the Chinese call "China," who possess an entrepreneurial knack and spiritual prestige that set them apart.
Having grown up in a "communist utopian society," where he was forced to read "Das Kapital," the author was studying jazz at the Berklee College of Music in Boston when he found that open-ended freedom left him numb. He fled girlfriends and music theory to live among escapees from less bourgeois afflictions.
In India, joyful spells of delirium (perhaps heightened by undernourishment) "made you feel like throwing your passport and money belt in the sewer and crawling next to a leper, ecstatic with the realization that you had nothing left to do and no place left to go." Yet Grozni's account is largely skeptical and demystifying. His is not the romantic Buddhism of five-star tourists and college freshmen.
Subsisting in filth near the Dalai Lama's compound, he begins to question his "giving up piano after 15 years of practice, ending friendships, destroying my parents' hopes ... to be humiliated by some belligerent old monk who hated Westerners and couldn't talk to people unless he was debating." He comes to recognize "the ramparts and fortifications of man-made dogma," and concludes that "one didn't have to be particularly bright to memorize texts and debate emptiness."
Grozni finds that other expats are an antidote to the more doctrinaire Buddhists. Central to his story is Tsar, a swaggering womanizer who has fled war-torn Sarajevo without a passport and dabbled in crime. "There's nothing like a taste of healthy Balkan irreverence after overdosing on emptiness," the author finds. Tsar and his "relentless, almost metaphysical battle with the bureaucracy of human existence" conflict with monastic propriety and become, for the author, a "manifestation of my own struggle to understand who I was." In male adolescent style, the Bulgarian and the Bosnian circumvent the rules (which come, in Dharamsala, with a thousand abstruse nuances).
Women — among them the "prettiest Tibetan prostitute in town" — are deeply desired, but peripheral to the tale. Competition with other men, including philosophical debate and blood-sport chess, are more urgent concerns. Tsar keeps the author engaged with the world, even as Grozni strives to detach from materialism. The spiritualist memoir becomes a rollicking buddy narrative, as the lusty Slav seduces and brawls his way through mountain villages and evades the Indian secret service. Some of the anecdotes — Tsar tries to paraglide across the border — seem to have sprung from frat-house legend.
The descriptions of India's daily grind, however, are intimate and precise. A Tata Motors truck gets stuck and the driver guns the engine in a spectacle of mindless futility. There is no maximum passenger load on public buses, and goats ride with people. The irritations of poverty intrude on metaphysical cloud-gazing, and the emptiness to which Grozni aspires sometimes seems to be just that. He absorbs vague, unsupported claims about the Buddha's having had "turtle feet" from a holy man.
Capricious senior monks hold court, and Western students like Grozni are supplicants, touching the hems of the enlightened. Grozni's rooms are infested with rats. Amoebic dysentery, malaria and bothersome erections compound the earthly suffering. Yet male solidarity and, perhaps, a dread of ambition, marriage and children, keep Grozni invested in his transcendental project.
Disciplined and competitive, he tests himself in Buddhist debate, an aggressive form of discourse into which young monks channel their testosterone. He describes the declaiming and foot stamping as a social engineering project, similar to mustering an army of aimless youths and redirecting their drives: "Here, they enjoyed all the forbidden sweets, from rapidly pumped adrenaline to revenge, pride and victory. There was also something explicitly erotic in the way the monks enacted the master-slave archetype."
Thus rechanneled, the author keeps his monastic vows intact for a respectable period. An irresistible — and game — young nun is resisted. But he's an irredeemable Westerner. Inevitably, he abandons his vows, falls in love, writes "silly books" and drinks wine, having come to understand the profundity of those pleasures by giving them up.
----------
TURTLE FEET: The Making and Unmaking of a Buddhist Monk.
By Nikolai Grozni.
326 pp. Riverhead Books. $24.95.