Poet's Observations Reveal a Complex Inner Narrative
The Buddhist Channel, Nov 13, 2008
Winlaw, BC (Canada) -- To read these poems is to engage in an act of devotion, to lower one's eyes and raise them again with reverence for the world.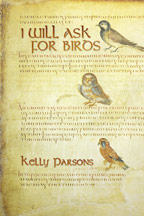 Like many who come to writing later in life, Kelly Parsons was unsure that her thoughts and observations were worthy of sharing. Her notebook scribblings weren't poems, were they? Joining a writing group, Parsons found support and encouragement and gradually her confidence grew.
She learned to take the images and emotions captured in her journal and transform the raw material of everyday life into poems that are both simple and profound. With such an abundance of subject matter to choose from Parsons relies on her heart to select the images and experiences she develops into poems. "What is most compelling to me is when something I observe evokes or awakens a tenderness within me. Then I feel compelled to write."
Parsons' poems reflect her ongoing efforts to exist in a state of mindfulness. "These are my observations of life, things, people, animals – I try to express those observations of the mundane in a way that reflects an inner narrative… I try to express what I what I experience when I am fully present." The result is poetry that is much more than a direct transcription of the world around her. With their genesis in Parsons' ongoing spiritual practice, the poems blossom during a lengthy process of revising and shaping the worlds until they are just right. This hard work of poem crafting begins after the initial ideas and images are captured with pen and paper.
"Getting those ideas from my journal and onto the computer - actually crafting the poem – is the most challenging part. I need to switch into a different mind space – it's hard to turn my ideas into poems."
When it works, though, the result is remarkable. For Parsons, the most satisfying aspect of writing poetry is when it surprises her. "When a poem ends up having a different meaning than I expected – when the poem winds up somewhere new – when what ends up being the heart of the poem is not what I expected – when these things happen despite me, the poem is always better."
For those who would like to turn their hands to crafting poetry themselves, Parsons is encouraging. "Read lots of contemporary poetry – steep yourself in the language of poetry," she suggests.
During her Buddhist mindfulness training, the poet articulated one of her aspirations. "I want to nourish people with my poetry and my way of life." The act of reading poetry, Parsons believes, is important in today's fast-paced world. "I think it helps people to slow down and become a little more present in their lives and look at things that are inner rather than outer. That's not a bad thing – it doesn't happen often enough. Reading poetry should help people look at life and the things around them in new and different ways – and, hopefully, it entertains in some way." Those who take the time to savour Parsons' poetry are likely to glimpse the deeper intent behind the work and there is no doubt they will be entertained.
Title: I Will Ask for Birds
Author: Kelly Parsons
Sono Nis Press, 2008
1-800-370-5228
ISBN: 978-1-55039-165-8
To order: http://www.sononis.com/book139.stm
About the author
Kelly Parsons was born in Victoria, British Columbia, and raised in a rural area of southern Vancovuer Island. Her poetry has appeared in various literary journals and anthologies, and she has studied at the University of Victoria, publishing in the field of medieval manuscripts and spirituality. She is a student of mindfulness practice and continues to make Victoria her home.