Philosopher in classic sense
by Ashok Vohra, The Tribune India, Jan 4, 2009
New Delhi, India -- BY the term philosophy, Dr Bhimrao Ramji Ambedkar (1891–1956), alias Babasaheb, meant "critical reason used in passing judgment upon things and events". In his opinion, the function of philosophy was "both descriptive as well as normative". In his thought and action, Ambedkar continually undertakes the task of comprehending underlying assumptions of the lived society and evaluating them.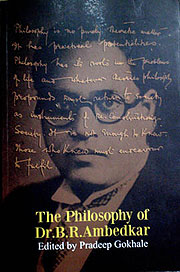 In his talk on All-India Radio on October 3, 1954, he asserted, "Positively, my social philosophy may be said to be enshrined in three words: liberty, equality and fraternity. Let no one however say that I borrowed my philosophy from the French Revolution. I have not. My philosophy has roots in religion and not in political science. My philosophy has a mission." In his thought and deed, Babasaheb was deeply influenced by Dewey's pragmatism, and his views on science, democracy and religion.
Though there are a number of books and anthologies on the life, thought and mission of Ambedkar from political, historical, and sociological perspectives, there is hardly any study of Ambedkar from the philosophical standpoint. The seven essays in the present anthology are classified into three parts viz. Dr Ambedkar's Philosophical Legacy, Dr Ambedkar's Socio-Political and Religious Philosophy and Dr Ambedkar's Philosophy of Law.
The first part comprises two essays dealing with the methodology, aim and orientation of Babasaheb's philosophy. Pradeep Gokhale raises the question, "Was Ambedkar a philosopher?" He argues that Ambedkar was a philosopher both in the Indian and in the Western sense of the term. He asserts that like Nagarjuna, Ambedkar too rationally, rigorously and fruitfully reinterprets and reconstructs Buddhism. He synthesised the opposites, thereby making them compatible with contemporary aspirations.
Pandit Vidyasagar in his essay upholds the view that Ambedkar's plea for fair participation of the minorities and depressed classes all over the world by giving them weightage inversely proportional to their social standing is founded on the scientific way of thinking. Ambedkar in this sense is a precursor to the Rawls theory of distributive justice. In the global context, this serves as an exemplar for developing harmonious relationship between third world and developed nations.
There are three essays in the second part of the book. Kanchana Mahadevan in her essay argues that conversion for Ambedkar was an existential striving. It is an affirmative action for bringing about social reform, conferring social dignity, acquiring political justice and ending discrimination based on birth. To use Kierkegaardian phrase, conversion is a step in the 'process of becoming'. Comparing Ambedkar with Kierkegaard, she asserts that both like Buddha remain "silent on the determinate dimension of God". She has shown that like Habermas and Rawls, Ambedkar too accepts that not pluralism, but reasonable pluralism, provides a healthy condition of human life. Her paper would have been more comprehensive had she using Ambedkar's saying "we must shape our course ourselves and by ourselves" shown that he was also a committed existentialist.
Lata Chhatare in her article shows that Ambedkar's principle of social justice is regulative as well as evaluative. It is regulative as it is founded on humanistic principles and is evaluative as it is used to present a critique of Hindu social order. Pradeep Gokhale elaborates, examines and emphasises the need for debate and development of the secular Neo-Buddhism propounded by Ambedkar. On the pattern of Mahayana and Hinyana schools, Ambedkar called Neo-Buddhism Navyana School of Buddhism.
In the third section of the book, B. R. Joshi in his article shows how Ambedkar's humanistic, social, political, economic and religious vision finds expression in the Indian Constitution. Suresh Mane elaborates Ambedkar's perspective on practical issues like personal law, panchayat system, federal structure, linguistic states, etc. But none of them gives reasons as to why Ambedkar felt about the Constitution that "if things go wrong . . . the reason will not be that we had a bad Constitution. What we will have to say is that man was vile".
Each of the essays is lucid and well written. The essays are a must read for those interested in Ambedkar's thought.
The Philosophy of Dr B.R. Ambedkar
Ed. Pradeep Gokhale.
Sugarva Prakashan and Indian Philosophical Quarterly
Publications, University of Pune.
Pages xiv+241. Rs 300.