A legendary obsession
by KIM HUGHES, Toronto Star, Feb 27, 2005
Gary Geddes pursues an Afghan monk who may have discovered America
Kingdom of Ten Thousand Things:
An Impossible Journey from Kabul to Chiapas
by Gary Geddes
HarperCollins, 332 pages, $34.95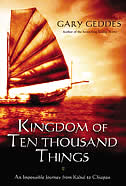 Toronto, Canada -- It will be curious to see where librarians and shop clerks file prolific Vancouver writer Gary Geddes' new book. Part travel memoir, part ancient mystery, part revisionist history, Kingdom of Ten Thousand Things could comfortably fit in several categories. As might be expected, this is its abiding strength and weakness.
But first the premise: It's a doozy. As Geddes explains in his forward, he has for years been obsessed with the legend of Huishen, a 5th century Afghan-born Buddhist monk who allegedly fled persecution in Kabul, made his way through China, then crossed the Pacific Ocean to land in North America in A.D. 458, some 1,000 years before Columbus. Huishen stayed there for an astonishing 40 years before returning whence he came "to tell his story to the (Chinese) emperor and the court historian."
Intriguing, absolutely, but also a story that gives rise to a host of other questions. Was there pre-Columbian Asian contact in the Americas? How did an ancient people traverse an ocean? Has "the arrogance and ethnocentricity of civilization in the West," to borrow Geddes' words, resulted in a stubborn refusal to consider this possibility? This is the revisionist history part.
"There has been, as yet, no intact ancient Chinese wreck or ship burial found in Mexico, California or British Columbia ? no Asian equivalent of the Viking site at L'Anse aux Meadows in Newfoundland ? to provide visual and material evidence for trans-Pacific Asian voyaging," Geddes admits.
"On the other hand, there are countless articles and books dealing with isolated evidence of pre-Columbian voyages, such as coins, Chinese anchors made from millstones, Asian melanotic chickens ... not to mention icons, images, and concepts appearing in sculpture, murals, codices, and calendars that appear to owe something to Asian influences."
The idea that Asians beat Europeans to North America isn't entirely new. But what of this Huishen character that's been haunting the author's psyche since the early 1970s? Where does he fit the scenario? This is the ancient mystery part.
Geddes advises us in his forward that he's hitting the road to shadow Huishen's alleged passage and that this journey will take him from Afghanistan (via Pakistan) to China to Mexico to British Columbia and countless villages, cities, museums, ships and hotels along the way. This is the travel memoir part. Still with me?
So Kingdom often feels like a juggling act. There are just so many characters, places, archaeological fragments and tidbits of lore and data to stay abreast of. The journey is as much a challenge to the mind as the body.
Geddes does give good colourful aside: "Our next stop took us through several cane fields, where the Datsun could not make up its mind whether to explode or disintegrate. With every bump, the key popped out of the ignition and our survival would be up for grabs ... Only repeated interventions from the Holy Mother kept us from puncturing the oilpan on protruding rocks."
Or this: "From the third floor of the Intercontinental Hotel, Kabul had a magical quality, as if the idea of light originated here. I basked in the early-morning rays, which warmed adobe walls, drew colours from the retreating dark, and pooled in the dew of cupped leaves."
Such nuggets are generously scattered throughout the book, and they engage us even as Geddes' exhaustive travel schedule sends us back several pages to check whether we're in Guatemala or Mexico City.
Also discombobulating are so-called missives from Huishen himself ? apparently sent through the ages and the ether and out through the author's pen during moments of illness and distress. They add yet another brick to an already freighted narrative.
Still, it's hard to argue with Geddes' boundless ambition. Kingdom is a heck of a read, even if it's a sometimes complicated one.