Kind choices
PRWeb, Jan 7, 2005
Newark, NJ (USA) -- one of the most well-known and most effective activists in America, has spearheaded international efforts to improve the treatment of animals in the manufacturing, entertainment, and food industries. In this timely new book, she presents readers with simple choices that will help them avoid cruelty to animals and introduce them to new products that are eco- and animal- friendly.
With public concern for the well-being of animals and the environment greater than ever, this is a book for anyone who cares about the earth and its inhabitants. Topics range from home and garden living, fashion and beauty, food and entertaining, animals in the home, and others, including:
Recognizing hidden animal ingredients in cosmetics and other household products
Dealing kindly with mice, insects, and other ?pests?
Adopting the right animal companion for you
Volunteering and investing in eco- and animal-friendly companies
Raising animal-friendly kids
Traveling with pets
Cruelty-free, environmentally friendly gift ideas
Traveling with eco-consciousness
Making your workplace a healthy, helping place
Delicious, cruelty-free recipes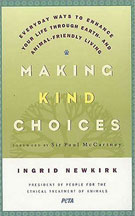 For each topic, Newkirk provides inspiration, ideas, and suggested resource information, including names of companies that produce cruelty-free products, and helpful websites and organizations involved in environmental and animal concerns.
With this new handbook, Newkirk has written a mainstream book for everyone-parents, kids, busy career-minded adults, people concerned with animal rights, or even those who simply share their home with a companion animal but who don?t consider themselves activists for any social cause.
"Making Kind Choices" is filled with easy, everyday ways for anyone to live a kind and more compassionate life. Says Newkirk, ?The goal of this book is to help people who, like me, want to make the most out of not only the special occasions, but the everyday parts of their lives, even their chores.
It is meant to provide positive change opportunities that will enhance our lives in ways generations before us were denied. It shows a way to live life to its fullest and most meaningful by becoming a more caring person in many ways, big and small.?
About the Author:
Ingrid Newkirk is the president and founder of PETA (People for the Ethical Treatment of Animals). She has appeared on The Today Show, Oprah, 20/20, and elsewhere. She lives and works in Norfolk, Virginia.