Book Highlights Essence of Korean Temples
By Chung Ah-young, The Korea Times, Sep 11, 2009
Seoul, South Korea -- By studying the deep-rooted influences of Buddhism, alongside Confucianism, one can discover their lasting imprint on Korea's culture and arts, as well as its contemporary society. Korean Buddhist temples are in many ways like ``living museums'' because of their historical, cultural and architectural values.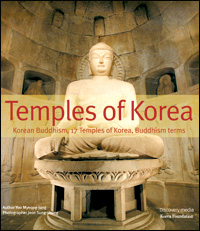 "Temples of Korea," authored by Yoo Myeong-jong, a poet and cultural critic, and photographed by Jeon Sung-young, a documentary photographer, is the most recent volume published by the Korea Foundation in an effort to promote a wide range of Korea-related books for readers abroad.
The book, written in English, features 17 of the most prominent Buddhist temples in Korea and describes Buddhism's influence on the country's history and its significance to the spiritual realm of the Korean people.
Divided into three sections, the first contains an introductory text that is designed to help readers foster a better general understanding of Korean Buddhism and its tenets.
The second section introduces the 17 Korean temples ? Seokguram Grotto, Bulguk Temple, Buseok Temple, Sudeok Temple, Bongjeong Temple, Haein Temple, Tongdo Temple, Songgwang Temple, Hwaeom Temple, Magok Temple, Geumsan Temple, Beomeo Temple, Silleuk Temple, Beopju Temple, Weoljeong Temple, Bongeun Temple and Jogyesa Temple.
The third part consists of simple explanations for the basic Buddhist terms in the preceding sections.
Seokguram, an artificial grotto, is a type of site not found anywhere else in the world. While ancient Indians and the Chinese built Buddhist temples in grottos, the people of Silla (57 B.C.-A.D. 935) created an artificial grotto out of granite and then proceeded to build a temple inside, using their religious fervor, artistic spirit, architectural techniques and geometric principles. This masterpiece was included by UNESCO on the World Heritage List in 1995.
Bulguk Temple seamlessly combines Silla's perception of Buddhism, sense of beauty and architectural technologies, and represents a rare example of ancient Buddhist architecture.
The temple, which was founded in Mt. Tohamsan near Gyeongju in 751, is a ``discrete example of the brilliance of Korean culture.'' It houses ``Dabotap,'' designed in the form of a square-shaped, tile-roofed house, which is National Treasure No. 20, and ``Seokgatap'' (Sakyamuni Pagoda), National Treasure No. 21.
Buseok Temple oozes a sense of natural harmony that encompasses not only Buddhist theory but also architecture, geography and the physical landscape. It also constitutes a good place to stop and take a breather for those who desire to get away from the harshness of everyday life. Built some 800 years ago, Buseok Temples's Muryangsujeon (Hall of Eternal Life) has been hailed as one of the most beautiful examples of temple architecture in Korea. The harmony is achieved by the structure's unique pillars known to be built in the style of ``baegheulim.'' The term refers to a style of pillar that, while thick in the middle, becomes progressively thinner, moving toward the upper and lower sections.
Located in Yesan, South Chungcheong Province, Sudeok Temple was built during the reign of King Wideok (554-597) of the Baekje Kingdom. Ancient historical records contain passages about 10 Buddhist temples from the Baekje era; in that regard, Sudeok Temple constitutes the only one of these structures still standing today. The temple has been at the forefront of Korean Buddhism for some 1,500 years and continues to serve as one of the leading temples in all of Korea.
Haeinsa Temple, which houses a series of Buddha's teachings, is nestled on Mt. Gayasan. Engraved on woodblocks known as the Tripitaka Koreana, the work consists of some 80,000 woodblocks of Buddhist scriptures. Both the Tripitaka Koreana and the Depositories for the Tripitaka Koreana Woodblocks have been recognized as World Heritage Sites.
Known as the Buddha Jewel Temple, Tongdo Temple is one of three temples that, along with Haein and Songgwang, houses the three Buddhist treasures. The temple was established by the monk Jajang as a place to enshrine the sacred relics of Buddha, Buddha's robe and the Tripitaka, which he bought back from Tang China in 646 in the Geumgang Geydan (Diamond Altar). The term "tongdo" means to reveal the Skyamuni ? Buddha's truth.
By taking a leisurely journey to each of these temple sites, readers will be exposed to a diverse array of Korea's cultural characteristics, including traditional Korean architecture, sculpture, painting and handicrafts, as well as Buddhist thought. The book also includes a glossary of basic Buddhist terminology to help foreigners more easily understand the religion and culture.
For additional information, contact the Foundation's Media Department or Discovery Media, the book's publisher. The title is available in local bookstores for 28,000 won.
---------------------
"Temples of Korea" by Yoo Myeong-jong; Korea Foundation; 155 pp., 28,000 won