The Art and Science of Mindfulness
Book Review by Mark Welch, Ph.D, Metapsychology.mentalhelp.net, Mar 9th 2010 (Volume 14, Issue 10)
The Art and Science of Mindfulness
Integrating Mindfulness into Psychology and the Helping Professions
by Susan Shapiro and Linda Carlson
American Psychological Association, 2009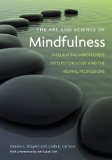 San Francisco, CA (USA) -- The integration and incorporation of mindfulness training into the mainstream of mental health may well turn out to be one of the most significant developments of the last ten or fifteen years.
The literature has expanded exponentially and has moved in quite substantial ways from the use of Buddhist insights and techniques to a regular adjunct of CBT and especially DBT. This new text from Shapiro and Carlson takes us back to the origins of the concept, but also forward to the practical application of mindfulness in clinical settings. It is clearly and happily situated between the scientific paradigm of research evidence (and the authors show this) and the practical world of the individual experience.
The authors try to show the interweaving of Buddhist teachings that emphasize intentionality and focus on the knowable, and the scientific tradition that looks for evidence of efficacy and generalizability rather than particularity. It is clear from the outset that they want to consider what they call both the art and the science of mindfulness.
The authors detail three different ways in which mindfulness can be integrated into psychotherapy and how it can be applied to direct clinical work: the mindful therapist; mindfulness-informed therapy; and mindfulness-based psychotherapy. These different pathways, as the authors term them, show different ways to integration of the basic precepts, and although there is a great deal of overlap, there are also distinct aspects. There may not, as the authors contend, be an awful lot of differences in the outcome, but the ways and directions of the approach bear some unpacking.
The mindful therapist emphasizes the skills of empathy and being present. The notion that these are skills is central for it assumes that techniques can be learnt and polished, that the doing is sometimes a separate question than the valuing. We may all agree that these qualities are good things, but how to show them in practice may be something else all together. The authors argue that mindfulness in the therapist can be taught and people can be trained, and they give a number of useful exercises that could be undertaken as n individual or as a group training program. Even if some of the reminders they scatter through the chapter, such as asking, "What is your intention? Why are you reading this book?", could be used as handy prompts to even the most experienced therapist. What is your intention? Where is your attention? are questions that never go out of style and never lose their relevance.
Mindfulness-informed therapy is used to capture therapies that use insights from mindfulness and Buddhist teachings, but incorporate them into a more eclectic presentation rather than actually directly teaching meditation or other practices. This may well be the most influential aspect of the concept of mindfulness in current psychotherapy because although for many practitioners and many clients meditation may be difficult to access (both practically and conceptually), the informal practices refer to implementing and applying the ideas to everyday life and developing open, accepting and discerning attention, in a conscious and intentional manner can effect profound and lasting change.
Mindfulness-based psychotherapy is used to describe the explicit, perhaps pure application of principles to the therapeutic context. It is perhaps rarer and may even be, for some, pushing the argument a little too far. However, the explication of the techniques and programmes in the book are informative and thought-provoking.
There is a model of health that underpins the theorizing (as opposed to a model of ill-health). For the authors the intentional development of non-judgmental attention (focussing clearly on what is) leads, almost inevitably if applied clearly and rigorously, to self-awareness and self-regulation and equally inevitably to greater order and health -- and all through internal loci of control rather than some external application of expertise. Mindfulness, in this way, is seen to promote self-efficacy alongside wellness.
It is a feature of the book that it reads as well from a therapist's viewpoint as it does from a self-help position. Although it seems to have been written with practitioners in mind, it could easily be absorbed by anyone looking to understand themselves a little better. For some, it may appear to be too mystical or quasi-religious -- there are certainly many references to Buddhist precepts and aphorisms, and there are meditation exercises which are not just thinking exercises -- but for most the simple practices of reflection and action upon reflection may have a deep resonance.
It is a book that will appeal on many levels. It is approachable and not hard to digest. The authors should be congratulated for bringing out and explicating some of the most important and perhaps kindest trends in modern psychotherapy for the benefit of us all.