The time is now
By MAJORIE CHIEW, The Star, March 28, 2010
Don't put off searching for peace and happiness, urges this thoroughly modern book of inspirational quotes
Petaling Jaya, Malaysia -- WHATEVER we chase in life, be it fame or corporate success, we eventually end up looking for peace and happiness, says Phng Li Kim, CEO of Kechara Media & Publications (KMP).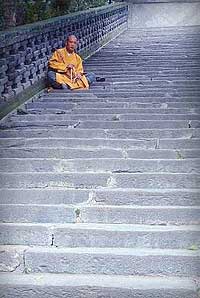 << The quote that goes with this serene image from If Not Now, When? says: 'When someone shouts at you, when someone scolds you, when someone is rude to you, when someone has abused you or is hurting you, when someone doesn't agree with you or opposes you – that is when you practise the Dharma.'
"We want something worthy so that when the time comes and our visa for life expires, we can all go happy," she points out.
But so many people put off seeking that peace and happiness till "later", when they're done with their chase. And many leave it till it's entirely too late. KMP's book, If Not Now, When? The Peace Edition, hopes to prod people out of procrastination and into thinking about how they're living their lives right now.
"Tsem Tulku Rinpoche's inspirational book is challenging because it makes you look at that other side of life," Phng says during the launch of the book.
If Not Now, When? was first released in 2008; the revised Peace Edition was released earlier this year. This edition, in English and Chinese, has a new cover and an additional chapter on "peace and anger".
The book is a collection of quotes matched with imagery about life and the search for peace by Tsem Rinpoche ("Rinpoche" is a title used to address Buddhist masters). As StarMag's cover story on him in 2007 revealed (Model monk, People, June 3), the Rinpoche is a dynamic Buddhist teacher of Mongolian-Tibetan heritage who spent his childhood in Taiwan and the United States and pursued monastic studies in India.
In 2000, he founded a non-profit Buddhist centre here, the Kechara House Buddhist Association Malaysia, also known as Kechara House. Now based in Malaysia and Nepal, he is Kechara House's spiritual guide.
KMP, a part of Kechara House, was set up to help disseminate teachings about spirituality through publications. If Not Now was among KMP's first releases. One of the book's editors, Jamie Khoo, explains how the book came about.
"His Eminence (Tsem Rinpoche) would send his students 'SMS teachings'. So when we started thinking about the book, it started off as a compilation of the Rinpoche's text messages. Then we expanded it to include extracts from his more formal dharma (teachings) talks."
"I mention the text messages to emphasise the sense of urgency and immediacy in his Eminence's teachings and messages. We always think, I'll do something nice tomorrow. I'll put it off 'till tomorrow. It's too difficult. I'll do it when I'm ready," Khoo points out.
"His Eminence's message is 'No, we start right now'. Spirituality is not about sitting in a temple or being in a cave. It's how you're reacting right now. One quotation in the book is, 'What matters is right now. How you react.'"
So the book, Khoo reiterates, is about "how we apply these values (in the book) in every single instance and second of our lives".
"It's something that happens at every moment and it's very applicable to everyone. It's not about religion or trying to be enlightened overnight. It's about how we're making the most out of every situation that we're in."
The book, according to Phng, "Marries beautiful imagery with a profound collection of quotations".
"Every quote explores relevant themes of joy versus sadness, harmony versus conflict, commitment versus irresponsibility, love versus fear and life versus death," she adds.
She feels that the book is unique because it presents Tsem Rinpoche's insights and teachings in a modern way that make them appealing to people of all ages and from different walks of life.
The Rinpoche's teachings on life-changing themes are presented as "bite-size" quotations, and "the simple, straight-forward and thought-provoking" quotes leave readers thinking.
Phng emphasises: "Life's teachings are complicated. What we've done here is to make them simpler to understand.
"Some will read the quotes and say, I knew that! Well, the book then implies, 'So, what are you going to do about it?'"
Readers might not like all of the quotes, but even if they respond to only half, Phng is convinced it will make a difference: "If you practise the half that touches your life, your life will be different. One day better than yesterday."
But even before you get to the quotations, your attention will surely be drawn by the wonderful photos in If Not Now, When? The Peace Edition – just as the book's editors and art director planned, of course.
The beautiful and striking imagery from various locations around the world were captured by photographers both local and from other countries, such as Indonesia and the United States. All photographs were "donated by the kind and talented team of photographers", says the book's other editor, Sharon Saw.
Each section of the book is deliberately broken up into different colours, explains the book's art director, Fang Chyi Chang.
"The colour scheme represent the fabric of life of the different peoples in the world. Usually, people stereotype colours. For instance, the colour yellow is stereotyped for Buddhism while clear blue, green and white is associated with spiritualism.
"Typography, especially the play of fonts, is used creatively to best display the message or (invoke) the feelings underlying the quote or phrase."
It all adds up to a book that is engaging. Or, as Saw puts it, "one can never get bored flipping through Rinpoche's quotes".
"You can enjoy it (the book) at various levels. The first time you read it, it will mean something different. And when you read it over and over again, you'll get deeper meanings and different perspectives.
"In Malaysia, I think, people are not that fond of reading. We've found this book is an excellent way of getting people to be open to these different ways of thinking without having to flounder through thick motivational books.
"This is a condensed inspirational book!"