Call me Paris
The Buddhist Channel, May 5, 2010
From a life of shopping to a journey of spirituality
Petaling Jaya, Malaysia -- Life was just peachy for Jamie Khoo – a great job, wonderful family, thriving social life, plenty of cash and all the time in the world to do whatever she wanted. So it was a bit of a shock for her to suddenly find herself meeting a Buddhist teacher and listening to him tell her about compassion and tantric Buddhas on fire.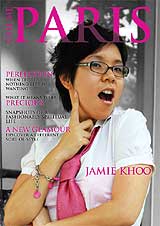 Call me Paris is a wonderfully funny book, full of insights into what spirituality can do for you – no matter who you are, where you are or what you're doing. There are little surprises to catch you off guard when you least expect it but it is precisely this element of spontaneity that Jamie brings out in story, showing us the diverse and eclectic methods of a Lama to bring Dharma closer to his students… even those who aspire to be Paris Hilton!
The book traces the spiritual journey that Jamie takes, crossing from a totally self-indulgent life to one filled with beautiful spiritual moments. Interspersed within this journey is another story which follows Jamie through three months spent in an unexpected, totally unconventional kind of retreat in Nepal.
Together, the two stories bring Jamie into the most tricky sort of journey there is – her own mind. Through Call me Paris, we gain many touching glimpses into a young person's inner battles as she confronts her own attachments, fears, insecurities and many emotional ups and downs. From overseeing construction workers in Nepal, to meeting some of the world's most eminent Lamas; from managing photo shoots for the city's most popular magazines to living with monks in the monasteries, Jamie shows us a side to spirituality that you would never expect.
There is never a dull moment in her spiritual life, as is clearly reflected in the fabric of the book itself. Her eminent Lama, H.E. Tsem Tulku Rinpoche makes sure of this. As she quotes him in the book, "I will never stop pushing you, challenging you, pressing your buttons and annoying you. I will always find ways to mess up your plans, pick on you, test you, change things around when you're not looking. If I ever stopped, if would mean I don't care anymore."
From Jamie's true-to-life accounts, this is certainly very true – apparently, you never know what to expect next on this spiritual roller-coaster. What keeps us reading is learning how she overcomes all this unexpectedness to emerge a lighter, brighter individual full of clarity and a simply joy. After all, she shows us, this is precisely how you grow – a fast-track journey to Enlightenment where you're literally pushed our of your comfort zone and into a bigger space of clarity and letting go.
There is plenty of things that may shock you in Call Me Paris. Jamie isn't afraid to show you all her sides – she goes from being a spoilt, foul-mouthed rich kid to a neurotic, insecure twenty-something, to a sincere spiritual seeker looking for answers – and all are told with a beautiful honesty. We can relate to her precisely because there's a little bit of Paris in all of us too as we traverse this tricky path. Through the book, you travel with her, feel her fears and frustrations, rejoice in her accomplishments and most of all, are inspired to search out your own spiritual adventures.
Call Me Paris is available for sale via the publisher Kechara Media & Publications www.kechara.com/eshop or on amazon.com