Bringing Buddha to life
Review by LAU KEAN LEE, The Star, May 28, 2010
As the world celebrates Wesak Day, we offer a book about the prince-turned-holy man who founded Buddhism
Kuala Lumpur, Malaysia -- MOST Malaysians, even non-Buddhists, would have some idea of the life story of the man who achieved enlightenment as the Buddha and founded principles of living now followed by millions.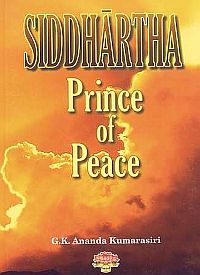 But in his book, Siddhartha: Prince Of Peace, Datuk Dr Ananda Kumaraseri has done much more than merely re-tell history.
While basing his book on what is well-known, Kumaraseri has gone further and brought to magnificent, imagined life the story of the prince who gave up his privileged life to search for an end to dukkha (Pali for "suffering") and the path to true happiness for all of mankind. The prologue sheds some light on the much misunderstood history of the Indo-Ayrans, which is Siddhartha's heritage. The first three chapters present Siddhartha's genealogy; his mystical birth when the moon was full in May (circa 623BC in what is now Nepal) that has become the day the world now celebrates as Wesak; followed by the numerous prophesies about baby Siddhartha made by famous sages and astrologers of the day – that he would become either a great king or a great holy man.
Siddhartha's father, King Suddhodana, tried obsessively to shield his son from anything that might stir the young prince's spiritual awakening, surrounding him with everything a boy could want as he grew up. With his mesmeric descriptions here, Kumaraseri manages to transport the reader to the court that was all but in name a gold-gilded cage.
Here, too, the author treats the reader to the romantic tale of how the young prince is made to compete with other eligible nobility for the hand of the exquisite beauty, Princess Yasodhara Devi.
I found this chapter a welcome respite, as I already knew what painful sacrifices lay ahead for the young couple, of course. The younger reader will also surely revel in the telling of the three contests in which Siddhartha triumphed over his rivals to gain the hand of the princess.
All too soon, the time comes for the prince's spiritual awakening. His father could no longer confine Siddhartha to the palace grounds and reluctantly allows him to tour the surrounding city with his faithful charioteer, Channa.
This is when the prince witnesses suffering for the first time in his life through various incidents that, together, mark a turning point in his life. These moments that Kumaraseri so deftly describes could have easily have become melodramatic in the hands of a less competent writer! In chapter eight, Inner Calling, when Siddhartha espouses his inner thoughts and feelings to his father, readers will recognise an issue the young man raises, that of equality for all, regardless of caste, gender or race – an issue that is, sadly, still causing suffering among mankind more than 2,000 years later thanks to ignorance and narrow-mindedness!
Also, as a "conscientious objector" vegetarian (I object to the slaughter of living creatures as food for humans), I found vindication in this chapter in Siddhartha's admonishment against the ritual animal sacrifices that were prevalent at that time.
And modern-day environmentalists will surely recognise the profound truth of the natural process of causality that impacts all life and Nature; that all things are inter-dependent and subject to the natural process of cause and effect.
Kumaraseri also makes clear something that non-Buddhists might not realise: that Siddhartha never advocated a religion or talked about any form of Creator or God. He just wanted to seek a way of life that could put an end to suffering.
As with the earlier chapters dealing with palace life, in the chapter in which the prince makes his great renunciation, the author once again brings history to life as he describes the level-headedness, love and support that Princess Yasodhara has for her beloved spouse.
In recognising that she, of all people, should not deny Siddhartha his destiny, Princess Yasodhara offers to assist him in his quest on condition that he gives her a child before he departs, and that Siddhartha departs on the day the child is born so as not to weaken his resolve to embark on the search for enlightenment.
And so it comes to pass that Siddhartha leaves the palace forever on a night of a lunar eclipse of the full moon in July, the night his son is born.
For six years, Siddhartha lives the life of an ascetic, seeking to learn from many ascetic-teachers. Ah, but he doesn't fall into the trap of cultist teachings because Siddhartha discovers the principle of the "middle way" or "middle path" – a "principle of moderation founded firmly on reason and reality".
He realises that no ascetic-teacher can help him attain enlightenment, he has to do it himself. He has to be self-reliant in mastering and purifying his mind. And since the mind is linked with the body, he has to nourish his body and keep it clean and fresh – in other words, he has to live a balanced life, rather than an ascetic one. This is what sets Siddhartha apart from the holy men of his time.
And the best way to purify the mind is to meditate, of course. Here, Kumaraseri does a good job of describing the various stages of Siddhartha's marathon meditation – in fact, this chapter could even serve as a treatise on meditation!
It could, however, prove daunting for the younger reader, who may not be able to grasp adequately the meaning of the metaphorical Mara and the epic struggle between Siddhartha and Mara. This culminates in the "three watches of the night" whereby Siddhartha achieves the realisation of the Three Aspects of Wisdom and, ultimately, enlightenment.
Reviewing this timeless tale was a daunting assignment, indeed! But I feel privileged to have done so, for it gave me the chance to re-examine my own beliefs and experience the joy, the pain and the ultimate bliss of Gautama Buddha's life.
I urge everyone who yearns for peace and harmony in his or her lifetime to read this book and be inspired by its depictions and descriptions of karuna (compassion) and metta (loving-kindness) to overcome bigotry in any form.
Siddhartha: Prince Of Peace
Author: Datuk Dr Ananda Kumaraseri
Publisher: Self-published, 320 pages
Available at Sukhi Hotu bookstore outlets in Petaling Jaya, Selangor (shotu@streamyx.com/03-7842 6828 or 03-7728 6682) and Penang (sukhiho2@streamyx.com/04-229 4811); the Times bookstore outlet in Sri Hartamas, Kuala Lumpur (03-6201 6871); or by contacting the author, Datuk Dr Ananda Kumaraseri, at akumaraseri@yahoo.com or 03-7958 4182. Kumaraseri is a former Malaysian ambassador who retired in 1995 as director-general of Asean and has written 10 other books on various topics. He is currently accepting inquiries from anyone interested in investing in the movie adaptation of his book, which has been optioned by well-known Indian director, Shyam Benegal.