Mantras for the masses
by Xu Ming, Global Times, Dec 4, 2012
Hunan, China -- At a Buddhist music seminar held recently in Xiangtan, Hunan Province, Master Sheng Hui, vice director of the Buddhist Association of China and abbot of Lushan Temple, said that while time and life are changing, Buddhist music should change as well to purify people's hearts. As part of the seminar, his words were put into practice with an evening party that featured fireworks and Buddhist music.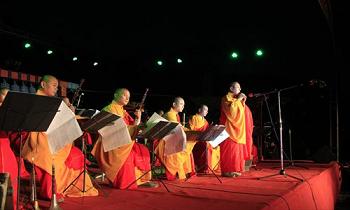 << Monks from Daxingguo Temple in Kaifeng, Henan Province perform a concert in Jilin, Jilin Province. Photo:CFP
The party combined stage performance with resplendent fireworks and all the performers were monks and nuns. This gave the audience a distinct experience of Buddhist music, which is usually associated with lone temples, green lamps and wooden fish.
Yuan Jingfang, director of Buddhist Music Studies at the Central Conservatory of Music, told Global Times that such efforts of presenting Buddhist music in new forms should be encouraged, though its artistic value remains to be tested over time.
Changing the stereotype
Buddhist music, also called Brahma voice, originated in India and was introduced to China over 1,900 years ago along with Buddhism. It has been regarded a good way to practice Buddhism and carry forward the power of Buddha.
Buddhist music used to be confined to temples and believers in Buddhism. Now it reaches a wider audience in the form of CDs, DVDs and online recordings. But generally it remains music for a minority, and the impression most people have about it is that it is traditional, rigid and confined to a sacred world.
As time goes by, there have been efforts to change the stereotyped impression about Buddhist music. Concerts like the one in Xiangtan have been held in several places across China in recent years to represent the ancient religious music in a modern way. Also, there are innovative efforts from individuals and temples to inject fresh blood into Buddhist music.
People might still recall the controversy a band of monks and nuns caused this September. An art troupe organized by Master Wu Le, the abbot of Tiantai Temple in Huanggang, Hubei Province, aroused much discussion. Its members are all monks and nuns and the instruments they use are Western such as violin and cello, instead of musical stones and wooden fish that are traditional for Buddhist music. They also use a Western style of singing in their performances.
Wu Le established the troupe four years ago. Monks can practice Buddhism through music, and when they perform the public can understand the religion better, Wu once told media. "People are busy today, and it is dull and not effective to rely on sermons (alone)."
Other people engaged in enhancing Buddhist music concur. Master Chang Sheng, whose vernacular name is Li Na, has produced many Buddhist music albums that are popular among fans of the genre. She was a famous singer before becoming a nun in 1997. Another nun called Yao Yi engages more in the stage performance forms of Buddhist music.
In Taiwan, Master Hsing Yun has been dedicated to enhancing Buddhist music for decades, establishing singing troupes, producing records, and integrating Buddhist music with Dunhuang dances, modern technology and Western symphony. "All these efforts are trying to make traditional Buddhist music modernized, which might help spread Buddhism," said Yuan Jingfang.
Reaching a wider audience
The worldly aspects of Buddhist music are also stressed in its development. Huang Minnan, a music producer in Taiwan, told Global Times that he made up his mind 15 years ago to change the climate of Buddhist music in Taiwan after being revolted by a traditional piece called Mahakaruna Dharani.
"Such stiff music is an obstacle for young people to know more about Buddhism. I wanted to make it sound younger," he said. "Buddhism is not just for those dying old people or people who forsake the world. It is closely connected to daily life."
He used to be among the top in the circle of pop music. But a car accident in 1996 gave him a serious shock. He was asked to recite Mahakaruna Dharani seven times a day to help him recover. The experience eventually led to his exploration into the world of Buddhist music.
Huang set up his company and produced his first CD Fortune Chant in January 1998, which combines Tibetan chant and world music style. He has gathered a group of talented singers from all over the world and manages an international team of composers and musicians, aiming to attract more young ears.
"In a society of fickleness, Buddhist music can make one review oneself and become quiet." He cited a song about a chant used to reduce sin. "We invited children to sing the song, which encourages the interaction between children and parents. It can be used as part of family education."
Master Zheng Xing, a monk in Nanputuo Temple in Fujian Province, is also creating Buddhist music connected to people's life. He is the first monk in the world to shoot music videos of Buddhist songs and the first to publish albums of his own in the mainland. His songs cover not only religious life and Buddhism but also kinship and friendship.
To him, entering into religion doesn't mean self-isolation: One can do worldly good with the spirit of Buddhism. His lyrics express the feelings of various social classes such as students, soldiers, airline hostesses, and so on, and show his deep concern for the world.
As a matter of fact, some popular songs we hear today were originally Buddhist music, exemplifying a perfect blend of Buddhist music and folk music. "Farewell" by Li Shutong (Master Hong Yi) and "Pray" are important songs related to Buddhism. Participation by pop singers like Faye Wong and Chyi Yu have added to the secular color of Buddhist music.
But there has been worry that the modernization of Buddhist music might disturb the lustration of temples and Buddhism in general. Huang said that it is important to know where to stop. "Buddhist music is a combination of music and Buddhism, but the latter is the essence."
To Yuan Jingfang, it is natural to see innovating efforts in the development of Buddhist music. "Time will tell how long they can last," she said, "Besides, Buddhist music will develop following two directions: One is for temple rituals and ceremonies, and one is simply related to Buddhism, like it is today."