Buddhists need "Christmas music" too
The Buddhist Channel, Oct 6, 2016
HONG KONG, China -- Ryan C Hunt is creating an album of Christmas music specifically written for Buddhists, Carol of the (Dharma) Bells.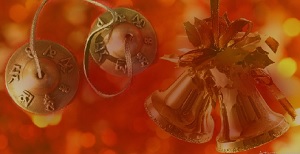 The first song on that album, The First Nidana (featuring Lydia Salnikova), has just been released on CBBaby.com and is available for immediate download there and at the website: carolofthedharmabells.com for $1 USD. It will be available on digital distribution sites like iTunes, Amazon and Spotify soon. Additionally, the full album can be pre-ordered directly on the website carolofthedharmabells.com for $10 USD.
All of the songs targeted for release on the album will be set to classic melodies of popular Christmas carols sung and played in Western countries. The music is in English with the occasional Sanskrit, Pali, or Tibetan word when appropriate.
Set to the melody of the classic Christmas carol, The First Noel, The First Nidana, is a poetic rendition of the casual links explained in the Buddhist teaching on Dependent Origination. The piano and melody should be instantly recognizable to those familiar with The First Noel. The song is intended to be enjoyable to listeners of all ages, fun to listen to and sing, and can be used by parents as a tool to familiarize their children with the classic teaching.
American by birth, Ryan currently lives in Hong Kong with his family, holds a regular job and commutes every day by MTR (the local rail system). Hong Kong is a city that bridges many people, cultures and religions. Ryan has worked in Technology his entire professional life, but actually got his degree in Fine Art from the University of Hawaii. Raised Christian and practicing Buddhism for more than 20 years his life is filled with many bridges of juxtaposing perspectives.
For more information, please visit:
Website: http://carolofthedharmabells.com
CDBaby.com: http://www.cdbaby.com/cd/ryanhunt12
Facebook: https://www.facebook.com/carolofdharmabells/
Google+: https://plus.google.com/b/117053765409962533072/117053765409962533072/about
Twitter: https://twitter.com/DharmaCarols
YouTube: https://www.youtube.com/channel/UCwrAdD1tH4Bk5PEYdyZqF0A
BandCamp: https://wismababble.bandcamp.com/track/the-first-nidana