Grammy mention for Buddhist monk
Statesman News Service, Jan 25, 2006
GUWAHATI, India -- Lama Tashi, a Buddhist monk and Tibetan scholar from Arunachal Pradesh, has been shortlisted for the Grammy award in the traditional world music category for his album Tibetan Musical Chants. The Buddhist community is elated over the achievement of Lama Tashi who is based at picturesque Bomdila, about 275 km from here.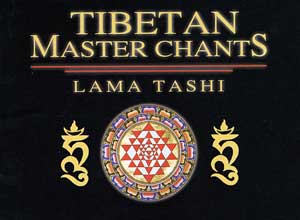 Lama Tashi is the principal of the Institute of Himalayan Studies at Dahong, Bomdila. His album consists of Buddhist chants and carries the message of love and peace. He is flying next week to Los Angeles where the award would be an-nounced on 8 February. He is the principal chant master of the Dalai Lama's Drepung Loseling Monas-tery in India — one of the largest Tibetan Buddhist monasteries in the world, with over 3,000 monks. He has travelled extensively throughout, teaching, performing, and recording with monks.
Ngawang Tashi Bapu was born on 22 February, 1968, at Thembang village in Arunachal Pradesh. He was born into a large farming family of three brothers and four sisters. He entered Drepung Loseling Monastery in June 1983. After the Chinese invasion of the 1960s, the Drepung Loseling Monastery relocated to south India, where it was rebuilt and now flourishes as a major centre for Tibetan Buddhism. Lama Tashi began formal education in 1985. He went on to perfect the Tibetan art of "Deep Voice," a multi-phonic singing technique utilised in sacred prayer. Fourteen years later, he was made the principal chant master of Drepung Loseling Monas-tery.
In 1991, he was among the monks chosen for the Sacred Music and Dance tour of 1991-1992. He performed on the eleven month-long tour of the United States, Mexico and Canada. Over the years, he has performed with many well-known musicians.
Lama Tashi began a 19 month-long tour of North America in 1996 as part of another tour sponsored by the Drepung Loseling Institute and the Richard Gere Foundation. In April 1999, he performed for the Dalai Lama in Curitiba, Brazil, alongside renowned Brazilian artists like Gilberto Gil. Later in the same year, he led multi-phonic chants before the Dalai Lama at the World Festival of Sacred Music at the Hollywood Bowl in Pasadena, California and at Central Park in New York.