I hope the world rocks with me: Indian Buddhist monk
IANS, January 28 2006
BOMDILA, India -- A tribal Buddhist monk from India's northeastern state of Arunachal Pradesh could well rock the world if he walks away with a Grammy award next month.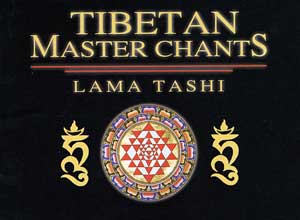 Ngawang Tashi Bapu's album "Tibetan Master Chants" has been nominated in the Best Traditional World Music category for the 48th Annual Grammy Awards to be given away in Los Angeles Feb 8.
"I am very excited and also surprised at being nominated for a Grammy. I hope the world rocks with me while chanting the hymns," Bapu told IANS at Gaden Rabgyaling monastery in Bomdila, 200 km east of the Arunachal Pradesh capital Itanagar.
Popularly known as Lama Tashi, 38-year-old Bapu's "Tibetan Master Chants" is a unique collection of 12 Buddhist religious hymns rendered in a sonorous voice and using just the traditional gong and a cymbal.
"Vibrating my vocal chords and producing multiple overtones with deep sounds while chanting the mantras is my specialty on the album," said Bapu, who is now head of the Central Institute of Himalayan Cultural Studies at the monastery.
"We did some over-dubbing so as to give the feel that the mantras were being chanted by a huge group of people."
Unlike most monks, Bapu is computer-savvy and fluent in English. "I do not have much knowledge in western music though I love listening to Indian Hindi music and folk songs. The Grammy was never there in my wildest dreams," Bapu said.
The Monpa tribal monk, originally hailing from Thembang village that borders China, will leave for Los Angeles Feb 2 to attend the Grammy awards function.
"I have dedicated my life to Buddhism and the Grammy nomination is recognition for our beautiful religious hymns that symbolise peace and love," the tonsured monk said between his daily morning chanting.
A revered Buddhist scholar and officially recognised as a "chant master" by some of the best-known monasteries in India, Bapu had earlier performed on stage alongside singers in the US.
"My album that was released in the US in the middle of last year and has become a hit. It has topped sales in many retail stores with the American people buying my CD in large numbers," he said with a smile.
The album was produced and engineered by Healing Sounds pioneer Jonathan Goldman at Colorado in 2004, when Bapu was on a vacation to the US.
"I was just humming the hymns when a friend of mine said he wanted to record the mantras at a studio," the monk said.
And it so happened that Goldman, president of the Spirit Music company, heard him chanting the hymns and instantly decided to produce the album that was later named "Tibetan Master Chants".
"Some journalists and musicians in America had asked me if I was a rocker. I wish people listen to our hymns and get peace of mind," the usually shy monk said.
But, for the moment, this unassuming monk with a maroon robe could well be the cynosure of all eyes at the Grammy awards function where he will rub shoulders with other nominees like Mariah Carey, Green Day, U2 and Bruce Springsteen.