Lama loses Grammy despite night-long vigil by monks
UNI, Feb 9, 2006
Bomdilla, Arunachal Pradesh (India) -- India's nominee for Grammy awards Lama Tashi did not win an award last night but that did not deter thousands of monks from Ladakh in Kashmir to Miao in Arunachal Pradesh from keeping a night long vigil before television.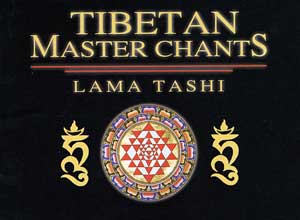 In the Best Traditional Music Album Category, where Lama Tashi was nominated, he lost out to Ali Farka Tourk & Toumani Diabat 's ''In The Heart Of The Moon.'' Tashi is the principal of the Central Institute of Himalayan Culture Studies at Dahung, in Arunachal Pradesh, and his music is aimed at ''spreading peace, harmony and love''.
Lama Tashi, a Tibetan Buddhist Monk, has been principal Chant Master of His Holiness, the Dalai Lama's Drepung Loseling Monastery of India. He has the ability of creating amazingly deep sound producing multiple overtones as he chants an ancient and sacred Tibetan technique that gives the impression of several people simultaneously chanting.
''He has represented a community which was struggling for existence. It is a big step forward,'' said Tashi's cousin Samdrup, who with many others, watched the Grammy awards in the television.
''Television is forbidden in the Drepung Loseling monastery where Lama Tashi belongs. But everybody was waiting in front of TV sets to see the Lama walk up to the podium and make North East, India and Buddhism proud,'' Mr Samdrup said.
''We wanted him to win. It would have been a great honour for Indians,'' said Gyalup, a school teacher in Tawang.
Comprising 12 popular Mantras of Tibetan Buddhism, Lama Tashi's album features the sacred Deep Voice Chanting. The album was produced by 'Healing Sounds' pioneer Jonathan Goldman.
''He was at the same platform with the who's who of the music industry like Mariah Carey, Christina Aguilera, Sheryl Crow and Eric Clapton at the 48th annual Grammy Awards night,'' said young Lama Tshering.
Before leaving for Los Angles Tashi had confided in this reporter that in 1988, two groups of medical experts examined his throat to unravel the secret behind his vocal chords. Twice during his world tour that year, doctors at Montreal in Canada and Florida in the US conducted tests to find out how he could produce multi-phonic sounds that give the impression of several singers performing together.
''Once they inserted a camera through my nose to look at my throat. I felt very sleepy when my throat was examined,'' the 38-year-old monk had said earlier.
Over the past several years, larg numbers of meditative chant CDs have made their way into music store shelves. But ''Tibetan Master Chants'' is a truly unique musical offering. It features another collaboration between Jonathan Goldman, known for his research on healing through sound, and Lama Tashi. He is a master of his craft and this CD is a tribute to his work and the Tibetan meditative tradition he is helping to preserve.
Fascinating for its vocal qualities and its effect on both mind and body, Tibetan Master Chants is an excellent choice for meditation, yoga, or just as background music.