Compose music of peace for competition
The Star, April 23, 2007
Kuala Lumpur, Malaysia -- THE Fo Guang Shan Malaysia (FGS) is organising the "Sounds of the Human World 2007" International Musical Composition Quest for the fifth year.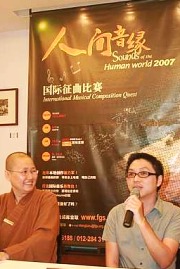 << It is for all: Venerable Jue Cheng (left) and Phang at the press conference on the Sounds of the Human World 2007 International Musical Composition Quest.
This year's short-listed contestants will be presenting their music talents live on Astro AEC. The contest is open to all who are interested in song or music composition.
Participants are free to select lyrics from the lyrics booklet provided by the organiser.
The lyrics booklet contains 258 verses and rhymes in Chinese and English written by Venerable Master Hsing Yun, which carry benevolent meanings of life.
"You don't have to be a Buddhist to participate in the competition," the Abbess of FGS Venerable Jue Cheng said.
"Everyone is welcome regardless of belief or background as the idea is to transform the words of wisdom into beautiful pieces of music to promote peace and harmony, and to enrich our lives through the inspiration of positive and benevolent hymns.
Entry to the Sounds of the Human World 2007 begins with immediate effect and closes on May13.
The Malaysia Final will be held on June 24 live on Astro AEC.
The six finalists will represent Malaysia in the World Grand Finals in Taiwan in September.
"Participation in Sounds requires an open mind, an interest in discovering more about your inner self, a sense of adventure and the challenge to be creative.
"We encourage people from diverse backgrounds to create and share beautiful music which are 'made in Malaysia' with the rest of the world," said Phang Shueh Ping, a local music composer and producer who is also the event's music director.
"It would be a superb opportunity for the local finalists to exchange their masterpieces with other participants from all over the world such as Brazil, the Philippines, Hong Kong, Taiwan, Australia, Britain, the United States, Canada, Europe, Japan, Korea, Singapore and Africa at the World Grand Finals."
Interested parties could obtain the entry forms, rules and lyrics booklets from www.fgs.org.my or call 012-202 6188 / 012-284 3111. Alternatively, e-mail klangbaru@fgs.org.my