Meet Imee the mantra musician
By Noel Achariam, New STraits Times, June 18, 2007
NOEL ACHARIAM talks to producer-composer-vocalist Imee Ooi who, among other things, sets mantras to music in order to promote Buddhism via music.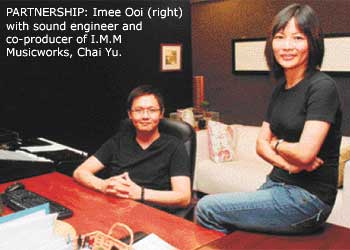 Kuala Lumpur, Malaysia -- IMEE Ooi is a well-known music producer, composer, arranger and vocalist who has modernised Buddhist chants and let mantras (a religious or mystical syllable or poem, typically from the Sanskrit language) to music. Her Chant of Metta is frequently played at major Buddhist events all over the world. She is also the musical director and composer of two highly-acclaimed stage musicals, Siddhartha and Above Full Moon.
Ooi, a classical pianist by training, formed I.M.M, Musicworks in 1997 and to date she has released over 20 albums. Some of her other well-known compositions are Jayamangalagatha, Heart Sutra Nilakantha Dharani-The Great Compassionate Mantra and The Guan Yin Mantra.
"Music can touch our hearts and minds deeply. It is a very effective way of expressing emotions, transferring messages and delivering hope. Thus, learning the Dharma through music and using music as a bridge to bring the Dharma to people is a heartwarming journey of wonder and joy. It is an experience where religion, art and way of life come together," said Ooi.
Ooi promotes her music together with Maitreya, an international Buddhist organisation. "This is how my music is travelling all over the world. I'm currently working with Maitreya to raise funds for the world's tallest Buddha project," she said.
She is also working on a musical entitled Jewel of Tibet which will be staged at the Istana Budaya next year in March. "The musical is set during the Tang Dynasty and is about a princess who marries a Tibetan and how he brings Buddhism to China," she said.
This is going to be her biggest musical production to date. Using more than a hundred actors and extras, this production will have Ooi composing and arranging the music, while her partner, Ho Lin Huay will direct and produce the musical.
"Lin Huay brought this ensemble together. The background will be based on Chinese and Tibetan settings and only at Istana Budaya can we house this enormous production," said Ooi.
Not everyone in the cast is a skilled actor, dancer or musician. Most of them are part-time actors who are students, doctors, lawyers and fans who simply enjoy musical theater." They are doing this out of the love for musical theatre and their passion for the performing arts," said Ooi.
Because of this, rehearsals are usually held in the evenings as the part-timers work during the day. "There are a lot of scenes and so every part has to be broken up into different segments for the various actors. There will be separate practices, and the main rehearsal will be held at Istana Budaya," said Ooi.
She is currently composing music for the general scenes and some of the solos. "This is going to be a long musical lasting more than two hours. Once we have finalised the main cast, we will sit down and discuss the music arrangements," she said.
According to Ooi, music with a good message will promote itself. "The power of music is very strong. We are trying to use music to convey positive messages," she said.
"I'm a person who don't plan ahead. It is very much like Buddhist teaching — live for now, don't let the future tie you down, don't let the past trouble you and things will turn out well," said Ooi.
For more information, contact I.M.M Musicworks at 18, Jalan 4/62D, Medan Putra Business Centre, Bandar Sri Menjalara, 52200 Kuala Lumpur, Malaysia. Tel: 603-62779448; Fax: 603-6272 9830; E-mail: immmusic@tm.net.my; Website: www.immmusic.com.