M.O.D releases "Jayamangala Gatha" (Stanzas of Victory) CD
The Buddhist Channel, June 26, 2007
Kuala Lumpur, Malaysia -- Malaysian Buddhist singing group "Messengers of Dharma (M.O.D)" has released a new album called "Stanzas of Victory". The CD, based on the Buddhist ancient chant of the "Jayamangala Gatha" is the group's second production, after their maiden effort "Aspiration".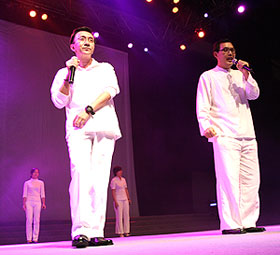 << Members of M.O.D, Roland (L) and Cedric (R) presenting a number from their album "Aspiration" at the just concluded Buddhist Culture and Arts Festival 2007 in Malaysia.
According to CD cover writeup, the recital of the Jayamangala Gatha is a set of eight benedictory stanzas extolling the virtues of the Buddha. The chant is usually conducted during important occasions or when inaugurating any venture of significance.
"The contents of the stanzas, when recited clearly, are intended to bring happiness and success in all good endeavours, said M.O.D founder Cedric Tan."
"An unique feature that concludes each verse is the line 'By virtue of this, may joyous voctory be yours. These stanzas are regarded as efficacious because they relate to eight occasions, each based on a beautiful story, where the Buddha thriumphed over his powerful opponents by the sheer power of good," he adds.
It is through these verses that one will realize that true victory is JOY, where no one is left dejected or in pain. Each time the Buddha thriumphs over His adversaries, He left them with realizations and awe over the power of generosity, patience, self control, loving kindness, serenity, peace, truthfulness and other virtues.
The vanguished never leaves without the lamp of wisdom being lighted, ensuring them greater happiness.
While the origin of these stanzas is shrouded in mystery, it can be stated with certainty that they were composed in Sri Lanka by a devout poet.
"Stanzas of Victory", produced by Messengers of Dharma (M.O.D.) is the group's second work after "Aspiration". M.O.D's focus is to promote and popularize English Buddhist songs among the masses. Their work is Dharma inspired, blending lessons from the Buddha's teachings with daily life experiences that many can easily identify with.
To get a copy of the album online, please goto: http://www.buddhistsound.com/home/album.php?cat_idx=3
Click here to listen to a sample of the song.