A truly, wonderfully Blessed Rainbow
Music Review by Kooi Fong Lim, The Buddhist Channel, June 4, 2010
Rainbow of Blessings
by iGemz
Producer: Buddhist Gems Fellowship, Malaysia 2009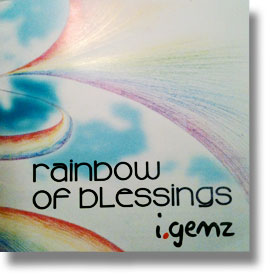 Petaling Jaya, Malaysia -- I have a confession to make.
When I got my copy of iGemz's latest album "Rainbow of Blessings", I wanted a "wow factor", the same feeling that I had when their first compilation came out a few years back.
Their maiden CD "Cradled in Buddha's Arms" was truly a blossoming of sort, becoming the first recorded local Buddhist inspired songs (read that again, "songs" not hymns) to hit the sound waves.
Before this, Buddhist music was mainly just hymns. They had this delicate, meandering sort of rhythm that encapsulated what's sacred and holy. It's the Buddha's teachings after all that we are singing, so the composition had to be respectful and - well, sacred sounding.
Go to any of the local Sunday Dharma talks and you'll get what I mean.
Being respectful was one thing. But whether the hymns were engaging the intended audience or not was another. And we are talking about kids and teens who glue themselves to MTV and hip-hop music, to rock and reggae, to punk and pop.
"Cradled in Buddha's Arms" became the defining point where talented songwriters merge Dharma inspired lyrics with contemporary sound, in tune with the taste of today's generation. With that, iGemz set the benchmark of making "Buddhist pop" hip. Dharma inspired songs in English will never be the same again.
And I have to admit that my initial expectations of "Rainbow of Blessings" were marked against that first album. I was waiting for some shock and awe.
Instead what I thought I got was a set of light hearted, breezy, contemporary jazzy offering. Certainly on the first take there wasn't any sort of the slam in the face, jaw dropping and eye popping kind of feeling.
Yet, somehow something was sticking long after going through one round of the CD. And so I played it again. And again. And again.
By the nth round, it became clear that the stickiness was no accident. The wise says that patience is a virtue, so it proves.
The album's 11 tracks effortlessly radiated friendly Dharmas like morning mists spreading around cool, gentle, loving dew. You sort of inhale in the lyrics, and as their meaning courses through your senses, you find yourself suddenly sitting in Dharma land.
One such line is found in the Blessings track, where Chia Sue Lynn warms up the mood nicely by telling us that "life is filled with blessings, abundant like the air".
But the rainbow in this Dharma land is not just about ideals and sweet niceties. It is evident that the composers knew intimately that actors precede actions. And it shows in their composition.
Throughout the album, values such as friendships, warmth and kindness, being there for those in need, taking good actions, exhortation to change one's life destiny and being thankful are skillfully woven into the fabric of the album.
These life-affirming values show that the producers are not just musically competent, but are also Dharma inspired individuals who can weave socially engaging tunes. Their lyrical invention exhorts us to take these steps, as Khoo Nee Sern reminds us in Good Action that "…while good thinking starts the journey, it doesn't take me to the end. Good action means I'll act on good today".
Like I'll Be There For You where Daniel Kwok sings about listening with the heart and being thankful for being needed, or the jazzy advice from Chia Sue Ann that Making Friends is nice and good. Or as Sue Lynn sings about just being Thankful, rejoicing in the happiness of people around.
Such simple messages belie the depth of wisdom, as when Poh Wee Fah croons about the story of a man lying in fear and pain, face withered with defeat and how one person's compassionate Warmth helped him to regain his pride.
When Goh Jin Pei exhorts those little someone who has no life to change a segment of his karma in Let's Change Your Destiny, she may also well be alluding to the ray of the Buddha Dharma, in the Rainbow of His middle way.
Make no mistake. This is not just any new age stuff. It is a Buddhist CD through and through. The first track announces this with the booming chant of Vijaya Samaravikrama, much like what you hear from those famed Shingon monks. Somewhere in the middle, Tan Siew Chan parallel the virtues of the Bodhi Tree with our personal climb towards Nirvana. And right at the end, iGemz pays their gratitude with a moving dedication to the late Chief Venerable K. Sri Dhammananda with You Showed Me The Way.
It's been a long time since I've swooned and swayed to Buddhist music. Many of the songs are plain hummable, some even feet tapping inducing. Place one into the CD player when there's a gathering or just play it during one of your happy hours. At first note no one may notice anything about Dharma sounding music. But when you pause and turn your ear toward what's being sung, you'll soon realize that they are much more than nice songs.
These are blessings, rainbows of them. As the lovely tunes take their turn to soothe us, we soon realize that they are also engaging. We are exhorted to be kind, be compassionate, take friends as family and share love with what ever little we have.
This is Dharma in action, splendidly blended into the music, enabling its pristine message to stick with us, and inside us.
"Rainbow of Blessings". Your love has made me see, and your heart has set me free. Mindfully, we play the CD. To iGemz, Sadhu! for taking us there.
----------
Rainbow of Blessings is priced at RM25 each at Sukhihotu outlets. To purchase, please visit: http://sukhihotu.com/.
Watch the making of "Rainbow of Blessings"