Timeless journey of a classical beauty
by Kooi F Lim, The Buddhist Channel, July 6, 2010
Petaling Jaya, Malaysia -- Once upon a time, more than 2550 years ago, some monks, having received subjects of meditation from the Buddha, proceeded to a forest to spend the rainy season (vassa).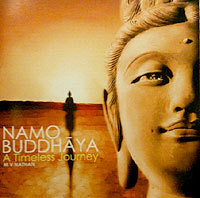 The tree deities inhabiting this forest were worried by their arrival, as they had to descend from their tree abodes and dwell on the ground. They had hoped that the monks would leave soon. To their dismay however, they soon found that the monks would stay the vassa period of three months.
The deities then tried to harass the monks in diverse ways, during the night with the intention of scaring them away.
Living under such conditions being impossible, the monks went to the Buddha and informed him of their difficulties. Thereon He instructed them in the Metta Sutta (Discourse on Loving Kindness) and advised their return equipped with this sutta for their protection.
The monks went back to the forest, and practicing the instruction conveyed, permeated the whole atmosphere with their radiant thoughts of metta. As the deities were so affected by this power of love, they allowed the monks to meditate in peace.
This timeless sutta is a long time favourite of many Theravadian Buddhists. It is recited to radiate loving kindness to every living being. In doing so, many find peace and happiness while helping others to live peacefully.
Now, M. V. Nathan has added a musical version of this sutta into his latest CD Album, "Namo Buddhaya: A Timeless Journey". The album contains three tracks sung in Pali in reverence of the Buddha:
Karaniya Metta Sutta (Discourse on living kindness)
Atthavisati Buddha Vandana (Salutations to the Twenty Eight Buddhas)
Namo Buddhaya (Homage to the Buddha)
In the album cover, Nathan said that for a long time he had wanted to put music to the Karaniya Metta Sutta. "It is simply amazing that this discourse remains ever so relevant even today," he added.
The second song on this album pays homage to all the 28 Buddhas of the distant past whilst the third song is reflective and meditative in nature.
M.V. Nathan has creatively blended the compilation with timeless classical Indian instrumentals, with the Sita helmed by Kumar Karthigesu, Tabla by Vickneswaran Ramakrishnan and Flute by Mohar. This is by no means an ad-hoc band made up of part time musicians, but are gifted individuals associated with the world renowned and internationally acclaimed band called "AkashA".
With the unique classical composition, the album successfully creates an atmosphere prevailing in India during ancient times.
Listening to the music with eyes closed in silent contemplation is an engaging, spiritually absorbing experience. It just sounds right and devotional, as though being transported back to an India of Buddha's era.
Apart from "Namo Buddhaya: A Timeless Journey", Nathan's previous two other albums are "The Journey" and "Love Kindness Forgiveness".
To obtain these albums (all retailing at RM 21 each), please visit Sukhi Hotu Bookshop outlets located at:
Penang
1-T Jalan Gottlieb
10350 Penang
Tel & Fax: +6 04 229 4811
E-mail: shpg@sukhihotu.com
Petaling Jaya
D9-6-1 Block D9
Dana 1 Commercial Centre
(behind PAWS, along Subang Airport Road)
Jalan PJU 1A/46
47301 Petaling Jaya
Tel & Fax: +6 03 7842 6828
Bandar Utama (Operating Hours: Sundays only 9.30am – 2pm)
Basement Level
Uttama Bodhi Vihara
No.3, Jalan BU 3/1, Bandar Utama
47800 Petaling Jaya,
Tel: +6 03 7728 6682
E-mail: shotu@streamyx.com