THIS Buddhist Film Festival 2014brings 16 films from 11 countries
The Buddhist Channel, July 31, 2014
Three debut Asian directors to attend THIS 2014
Singapore -- THIS Buddhist Film Festival 2014 (THIS 2014)will be held from 20 to 27 September. Three film directors from across Asia will be in Singapore for the festival, which is in its third edition.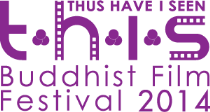 Elsa Yang, Gunparwitt Phuwadolwisid and Geshe Thubten Jinpa, all of whom made their directorial debuts with films participating in the festival, will share their experiences with the audience during the week-long event.
My Mandala (Taiwan), Three Marks of Existence (Thailand) and 108 Yaks (Nepal) are among 16 films from 11 countries curated for the biennial film festival organised by Dharma in Action. 15 of these films will be screened for the first time in Singapore, including the first animated feature, Osamu Tezuka'sBuddha 2 (Japan),to make the festival's list.
The line-up for this year's festival are a medley of feature films, short films, animated features and documentaries exploring the historical, cultural, and social aspects of Buddhism through universal themes of mindfulness and compassion. The Opening FilmAvalokitesvara,is a feature film from China depicting a difficult time for Buddhism in the Tang dynasty. Bodhisattva Avalokitesvara, the Buddhist embodiment of compassion and loving kindness, is one of the most iconic figuresin Chinese Buddhism. This film exemplifies the ideal of loving kindness, compassion and integrity in the face of overwhelming odds and difficulties in life.
Both Buddhist and non-Buddhist audiences can also look forward to documentaries like Room To Breathe (USA), about how mindfulness training transformed the behaviour of rowdy teenagers in a San Franciscan middle school; Happy (USA), that explores the findings of some of the world's leading researchers of happiness; and features likeShip of Theseus (India), a philosophical journey which raises questions about self-identity, justice, and death. Appealing to anime fans, Osamu Tezuka'sBuddha 2 (Japan)presents the life of the Buddha in an epic dramatisation based on the original comic series byOsamu Tezuka, creator of Astro Boy.
THIS, which stands for "Thus Have I Seen", is organised by Dharma In Action, a group of young Buddhist professionals in Singapore. Since its debut in 2009, the film festival's objectiveis to inspire audiences to strive for the betterment of self and society in line with Buddhist Teachings and values.Building upon the warm reception of the two previous editions, the film festival seeks to continuously engage the audience with fresh perspectives. Approximately 100 films were reviewedbefore the final list of films was selected. To date, it has garnered a strong following within the Singapore Buddhist community as well as non-Buddhists who are keen to find out more about Buddhism.
"We are very honoured to have three of the film directors joining us for the third edition of THIS Buddhist Film Festival and greatly excited about the line-up, as it explores a wide range of themes ranging from life and death to faith, which will interest both Buddhists and non-Buddhists.In the Buddha's time, He encouraged a spirit of open enquiry, and we believe that these films spark meaningful conversations in that same vein," said Teo Puay Kim, chairman of THIS Buddhist Film Festival's organising committee.
Tickets go on sale from today at SISTIC. For the full programme, please visit www.thisfilmfest.com.