Will Aishwarya Rai play Buddha's wife?
by ABDUL QADIR, TIMES NEWS NETWORK, NOVEMBER 21, 2004
GAYA, India -- If all goes well, the bride of Gurinder Chaddha's Bride and Prejudice , described by many as the most beautiful woman on the planet, would play Gautam Buddha's screen consort in a Rs 200-crore (US$ 44 mil) movie being produced by the Mahabodhi Society of India.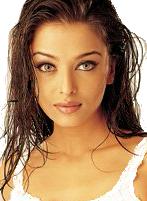 The Bandit Queen director, Shekhar Kapoor, has consented to direct the film, said Mahabodhi Society president Bhupendra Kumar Modi.
Hollywood stars like Brad Pitt and Richard Gere would also be signed for the film, tentatively scheduled for release in the year 2006 to coincide with the 2550th birth anniversary of the founder of Buddhism.
Though Modi did not specifically disclose Aishwarya's role, sources in the Mahabodhi Society said Aishwarya is likely to be offered the role of Buddha's wife. Aishwarya is also said to be keen to work in the film, planned to be released globally, said Modi.
The cast of Sujata, the devoted Buddha follower, for this "commercial venture" is yet to be finalised. Modi, who is also an industrialist, would be making an initial investment of Rs 50 crore in the film. Gere is also likely to finance the film.
If Aishwarya signs the movie, it will be a challenging assignment for her as she will have to play both ? princess as well as monk. Buddha's wife Yashodhara became a Buddhist monk soon after Buddha's enlightenment in Bodh Gaya more than 2,500 years back.
Gautam Buddha, according to Buddhist scholar PC Roy, was married to Yashodhara at the age of 16 and he left the palace soon after the birth of his son Rahul. Buddha was then 29. Yashodhara became a nun when Buddha turned 36.